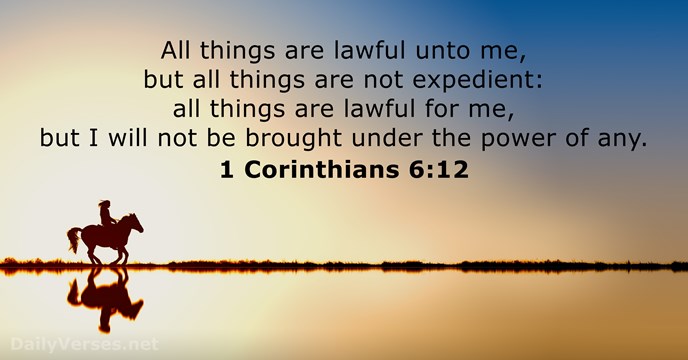 Matthew Henry gives us some overall context for this chapter; Cautions against going to law in heathen courts. (v.1-8) Sins which, if lived and died in, shut out from the kingdom of God. (v.9-11) Our bodies, which are the members of Christ, and temples of the Holy Ghost, must not be defiled. (v.12-20)
In our main text for today, we find ourselves at the beginning of the last section of the Chapter. Paul here repeats a statement "All things are lawful to me"  which is not ever to be misread or misinterpreted into 'because my salvation is secure I can sin.' Nor is it ever to be misconstrued that all things are legal!
Paul makes an effort to point out that even though he is not under the LAW,  it is oftentimes far more expedient to be obedient to it.  John Gill says; when the doing of them destroys the peace, comfort, and edification of others; when it stumbles and grieves weak minds, and causes offense to them; see ( 1 Corinthians 10:23 )
Paul secondly points out that any attempt by "Christians" to walk in the world, that is to practice wrong ideas and actions (even though legal) and be a servant of that sin (power).  We must always ask in any activity three questions:
Will this activity edifying or help others?

Will this activity cause me to lose control and sin?

Will this activity Glorify God?
Today's Prayer
Father, thank You for the liberty I have in Christ and the price he paid at Calvary for all my sin.  Thank You that I am not under any form of law but under grace and that because Christ identified with my sin, I am identified with His perfect, righteousness, and have been declared blameless through faith in Him. Keep me from sin, I pray and give me the wisdom to recognize things that are permissible, but which are not expedient. Help me to live my life in a way that Glorifies You and edifies others. Thank You that in Christ, all things are lawful unto me, but I pray that I will not cause another to stumble or backslide in my own Christian life. This I ask in Jesus's name, AMEN.  –   Edited from Source