The religions of the world offer an enormous range of solutions to human problems. Some promulgate various forms of religious self-help exercises; some advocate a kind of faithful fatalism; others urge tapping into an impersonal energy or force in the universe; still others claim that mystical experience are available to those who pursue them, experiences that relativize all evil. One of the critical questions to ask is this: What constitutes the irreducible heart of human problems?
The Bible insists that the heart of all human problems is rebellion against the God who is our Maker, whose image we bear, and whose rule we seek to overthrow. All of our problems, without exception, can be traced to this fundamental source: our rebellion and the just curse of God that we have attracted by our rebellion. – From TGC Today's Reading Genesis 3
---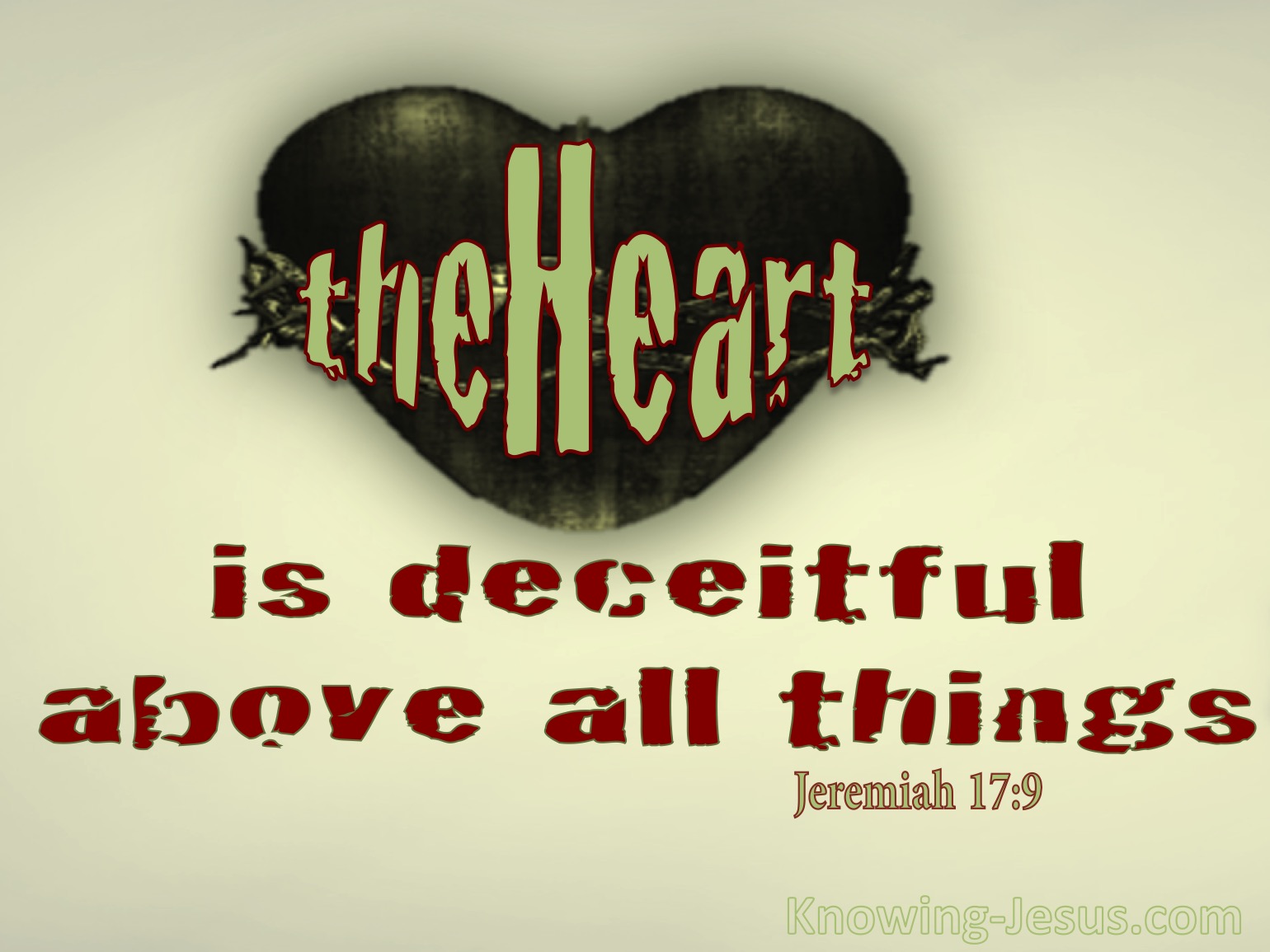 ---
CONTEXT
The fatal consequences of the idolatry of the Jews. (1-4) The happiness of the man that trusts in God; the end of the opposite character. (5-11) The malice of the prophet's enemies. (12-18) – Matthew Henry Concise Commentary
V.1-4 The Jews had hardened their hearts, which is the natural act of man since the fall, to all God's commands, and turned to their own schemes of what was righteous.
v. 5-6 The Jews (and all mankind) is cursed for trusting in mans ways and not the Lord's. 
v.7-8 There is a great blessing for those who trust in the Lord.
v.9-11   Yet foolish man (apart from Christ) will always end up paying the  consequences of trusting in our own deceitful hearts.
John Owen on v.9   The Heart's Deceitfulness Towards Itself 
I. IT ABOUNDS IN CONTRADICTIONS, so that it is not to be dealt with on any constant rule.
1. The frame of the heart is ready to contradict itself every moment. Facile now, then obstinate; open, then reserved; gentle, then revengeful.
2. This ensues from the disorder wrought upon our faculties by sin.
II. ITS DECEIT LIES IN ITS FULL PROMISINGS UPON THE FIRST APPEARANCE OF THINGS.
1. Never let us think our work in contending against indwelling sin is ended. The place of its habitation is unsearchable. There are still new stratagems and wiles to be dealt with. Many conquerors have been ruined by their carelessness after a victory.
2. The fact that the heart is inconstant calls for perpetual watchfulness. An open enemy, that deals by violence only, always gives some respite; but against adversaries that deal by treachery nothing but perpetual watchfulness will give security.
3. Commit the whole matter, therefore, to Him who searcheth the heart. Here lies our safety. There is no deceit in our hearts but He can disappoint it. 
v.12-13 Praising God for His character and Justice
v.14-18 Praying for healing and help from enemies. 
---
SERMOM
by David Black
(David Black, 1762-1806, was pastor in Edinburgh, Scotland, from 1794 until his death. With regard to his sermon delivery, it was said that "His manner was solemn and affectionate, earnest and persuasive. When expostulating with sinners, or unfolding to Christians the consolations of the gospel, there was often an animation in his address — a sacred fervor — a divine unction, which powerfully impressed the auditory. He evidently felt the truths he was delivering, and spoke as one standing in the presence of God, animated with a pure zeal for the glory of the Redeemer, and the salvation of immortal souls.") – Grace Gems
---
OTHER RESOURCES
Mark 7:20-23 – Hideous Discovery, SERMON DELIVERED ON LORD'S-DAY MORNING, JULY 25, 1886, BY C. H. SPURGEON,