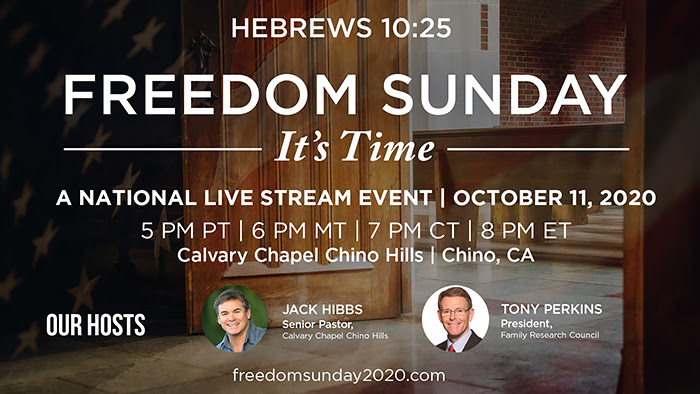 It's time. You are invited to join with churches and Christians across the nation for Freedom Sunday on October 11th, a national live stream event from Calvary Chapel Chino Hills in Chino, CA.
Freedom Sunday will address the church's scriptural and constitutional authority of religious freedom despite government restrictions and overreach. Right now, there are many things that have caused a great deal of fear. But God does not call us to live in a spirit of fear, but calls us to faith, love, and power through Christ.
FREEDOM SUNDAY: OCTOBER 11th
A NATIONAL LIVE STREAM EVENT
8 PM ET | 7 PM CT | 6 PM MT | 5 PM PT
You can watch this event live on October 11th at FreedomSunday2020.com.
Share this invitation with your church along with pastors and leaders in your community as we all unite to take a stand for religious freedom in this country.