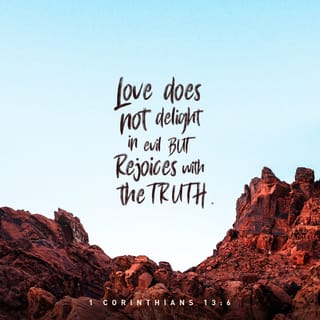 CONTEXT: As I noted in last Thursday's post on v.4, Paul describes how utterly useless even the most gifted "Christian" is without love. Matthew Henry breaks it down as: The necessity and advantage of the grace of love. (1-3) Its excellency represented by its properties and effects; (4-7) and by its abiding, and its superiority. (8-13)
Our text for today follows that theme from Thursday, the true characteristics of Charity or Godly Love include finding no joy in injustice or evil but always rejoicing in the truth (God's Holy Word).
In many so called "Christian" circles today Doctrine has become nearly a curse word. Doctrine in it's most basic form means instruction, so these naysayers are in fact saying 'we don't want God's instruction' pretty dangerous ground if you ask me. Accepting God's instruction and defining who, what and how we believe is critical to carrying out the Great Commission the duty of all those chosen born again children of God.
Enjoy today's devotional from GTY on the matter:
"[Love] rejoices with the truth" (1 Cor. 13:6).
Love never compromises God's Word
Paul has just given us a list of things that love does not do: become jealous, brag, act arrogantly or unbecomingly, seek its own, become provoked, keep track of wrongs suffered, or rejoice in unrighteousness. Now he comes to the first of five things love does: "[Love] rejoices with the truth" (v. 6).
The contrast in verse 6 is between love's inability to rejoice in unrighteousness and its joy when truth prevails. "Truth" refers to God's Word, which is the standard of righteousness. Paul could have said, "Love doesn't rejoice in unrighteousness but rejoices with righteousness," but he went beyond the mere deeds of righteousness and addressed its standard and motive.
Love won't tolerate false doctrine or sinful behavior, but it rejoices when God's Word is taught and obeyed. The psalmist said, "O how I love Thy law! It is my meditation all the day. Thy commandments make me wiser than my enemies. . . . I have more insight than all my teachers . . . . I understand more than the aged. . . . I have restrained my feet from every evil way, that I may keep Thy word. I have not turned aside from Thine ordinances, for Thou Thyself hast taught me. How sweet are Thy words to my taste! Yes, sweeter than honey to my mouth! From Thy precepts I get understanding; therefore I hate every false way" (Ps. 119:97-104). That's the testimony of one who rejoices in the truth.
Often Christians are willing to compromise sound doctrine for the sake of loving others. They believe that doctrinal precision is somehow divisive and unloving. But Scripture says, "This is love, that we walk according to His commandments. . . . For many deceivers have gone out into the world, those who do not acknowledge Jesus Christ as coming in the flesh. This is the deceiver and the antichrist. Watch yourselves, that you might not lose what we have accomplished, but that you may receive a full reward" (2 John 6-8).
Biblical love always operates within the parameters of God's Word and spiritual discernment (Phil. 1:9-10). The most loving thing you can do is live according to biblical truth. Doctrinal compromise simply diminishes the quality of love and plays into the hands of the evil one.
Suggestions for Prayer
Ask God for wisdom and discernment to keep your love within its proper biblical bounds.
For Further Study
Memorize Philippians 1:9-11.


From Drawing Near by John MacArthur Copyright © 1993. Used by permission of Crossway Books, a division of Good News Publishers, Wheaton, IL 60187, www.crossway.com.