FOOD, MEAT, NOURISHMENT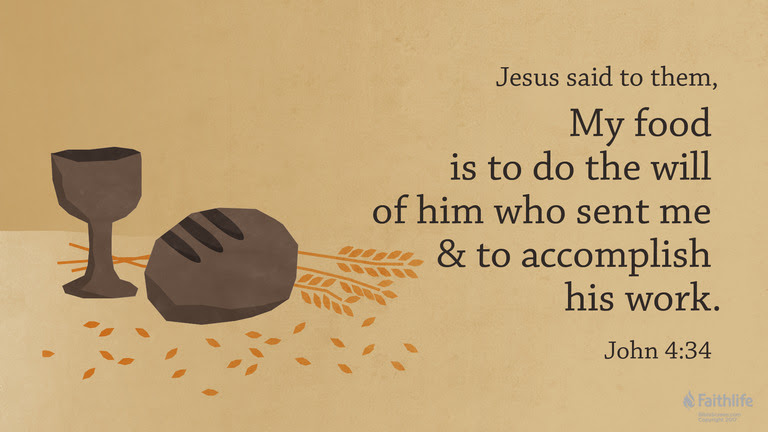 This is a very long Chapter packed with lots of great biblical insight. According to Matthew Henry, it can be broken down as follows: 
Christ's departure into Galilee. (1-3) His discourse with the Samaritan woman. (4-26) The effects of Christ's conversation with the woman of Samaria. (27-42) Christ heals the nobleman's son. (43-54)
Our text v.34 comes from the third section when the woman has gone off to tell her town folks about Jesus and He and the disciples are conversing.  One of the disciples asks v.33 "Has anyone brought Him something to eat?"  It is then Jesus states out text. "My food is to do the will of Him who sent Me… 
But what can HE possibly mean by saying it? Food is meant to refresh, reenergized the body. From a spiritual standpoint, the Word of God is our daily Bread of Life.  Yet Jesus is referring to neither of these. 
In one of the most profound statements in the New Testament Jesus says I am fulfilled, nourished, complete by doing the Will of God.  C.H. Spurgeon said;  "The man of the world thinks that, if he could have his own way, he would be perfectly happy, and his dream of happiness in this state or in the next is comprised in this, that his own wishes will be gratified, his own longings fulfilled, his own desires granted to him. This is all a mistake. A man will never be happy in this way." 
Jesus knew the only way to be whole in this life was to do God's will.  Have you surrendered to His will for your life today? 
Today's Prayer
LORD God, all-powerful and merciful creator of the universe, I pray you will grant me the wisdom and knowledge to live in your will and do the work you have prepared for me each and every day. In Jesus' name, I pray. Amen.