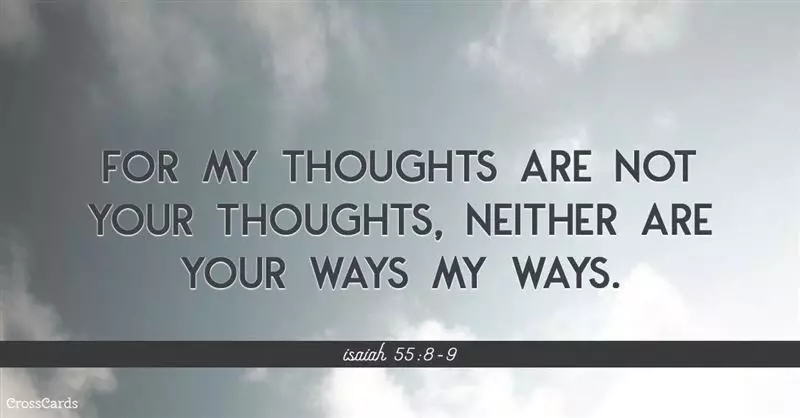 Isaiah 55 can be divided into two sections:
Verses 1-7: God's free gift of salvation is offered to all who will receive it. Those who are spiritually hungry and thirsty may come to eat and drink "without money" (or freely). He promises an "everlasting covenant" to the Gentiles like the one He established with Israel. His invitation to all men is clearly stated by the appeal, "Seek ye the Lord" and "call ye upon him."
Verses 8-13: God's sovereignty and omniscience are extolled by the statement that His "thoughts" (i.e., purposes and intentions), and "ways" (derakim, or "directions"), are "higher" than ours.  –https://bible-studys.org/index.html
Our text for today comes from the latter, v.8-9, For my thoughts are not your thoughts, neither are your ways my ways, saith the Lord. 9 For as the heavens are higher than the earth, so are my ways higher than your ways, and my thoughts than your thoughts.
A few years ago an interesting press release hit my inbox, citing a recent survey by the Barna Research Group. It seems most folks do not know that some of their favorite biblical quotes aren't actually from the Bible. See how much you know—which of these famous phrases is found nowhere in scripture:
"To thine own self be true."
"God helps those who help themselves."
"The truth will set you free."
"God works in mysterious ways."
The only phrase above that is in the Bible is "the truth will set you free," in the Gospel of John. According to Barna's poll, only 24% of adults knew that.
So what does that have to do with today's devotional?  How many times have you heard folks say the last one? Hundreds, maybe more, so unbiblical.  Let us look at a few points:
God's ways are different and better Proverbs 14:12
His knowledge is boundless and ours limited Psalm 147:5 
The mystery is to those outside the faith 1 Corinthians 2:6-16
The great mystery is revealed to the saints Colossians 1:26, 2 Timothy 2:15
When we say or agree with someone saying "God works in mysterious ways" we are acknowledging that God's will can not be known for our lives.  That the God of the bible is unpersonable, unrelatable, and by proxy uncaring. I don't know about y'all but that is definitely not the God I read about in my collection of Bible's no matter the translation. 
TODAY'S PRAYER
Lord God, I come to you today denying that you are a God that can not be known, that all your works are mysteries and we are but puppets in this life.  You promise to instruct me (Ps 32:8) in your ways and watch over me to ensure my walk, I pray your Holy Spirit will guide my path daily.  Grant me the ability to serve in your will daily, with understanding and compassion. – AMEN
---