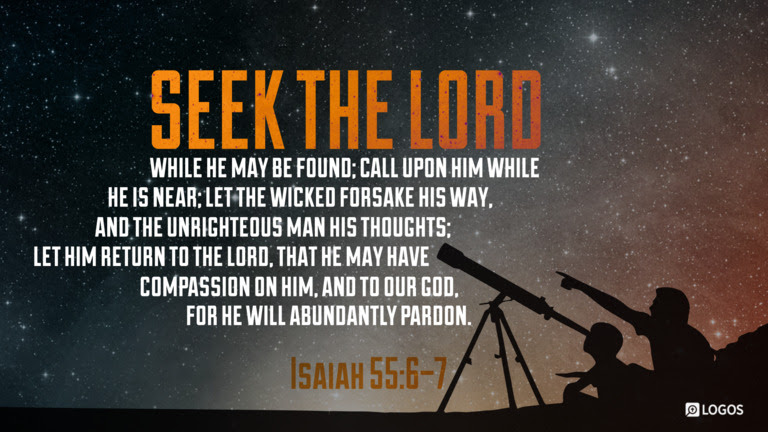 As I read this in my inbox this morning it struck me that there are two types of men described in the bible who "return to the Lord." I will get to that more in a moment but first as always some context. Previously I have posted on Isaiah 55:8-9, in which you will find a good overview of the beginning of the chapter. Then I also posted on seeking God, Isaiah 55:6 with a detailed breakdown of that verse. So that leaves v.7:
Let the wicked forsake his way – Those guilty of sinning against God
and the unrighteous man his thoughts – wicked, idolatrous thoughts
and let him return unto the Lord – Hebrew word Shuwb, meaning to turn back, repent, restore, make afresh, renew…
and he will have mercy upon him – compassion and love on those who end their evil ways
and to our God, for he will abundantly pardon; – God here is the Hebrew 'elohiym, plural meaning the triune God

The Lord does abundantly pardon

– this indicates God's mercy, His desire to pardon nows no boundaries
I am not a Biblical Scholar (no fancy Ph.D.) so I read about a dozen commentaries this morning referencing V.7, and most agree that the wicked forsaking their ways means everyone. I disagree, and here is why.
Isaiah is writing to the nation of Israel, Jews, who knew the God of the bible.

To forsake something (sin) you need to understand your guilty of it

unbelievers have no knowledge of their guilt

To repent, be restored, renewed, etc. you first had to be in covenant with someone

God's covenant was with the Jews (and now all peoples)

God's promise to abundantly pardon was only for those who repented and returned to the flock
Remember in the beginning I said two types of men described in the bible who "return to the Lord." One we are all familiar with that of the Prodigal Son, the wayward child who eventually comes to his senses and repents, and begs forgiveness of his father. The other is one you may not recognize, Jonah. This is the story of those called by God, who think they know better and God puts them in a place where they eventually surrender all.
What do these men and our text have in common, both knew God but thought their ways were better than God's. It took severe hardship to turn them from their evil rebellious ways and get God's unmerited merciful pardon and love.
Maybe you too, have been running from God's call or something as simple as just sitting on the pew and letting the world go by. It is time to answer the Holy Spirits' urging and repent of our own ways and get on board with God's plan.
Lord God, your ways are made clear to us, yet we rebel and desire our own ways. We ignore the chosen path for one that seems right in our own eyes. We ignore all the helps you send our way as our hardened hearts desire self. Lord, we beg you to soften that heart, that we might repent of our rebellious ways, and renew a righteous Spirit in all areas of our lives. I ask that we seek your guidance and will daily, for we know that our ways are never better. All this we pray in Christ's Name. AMEN