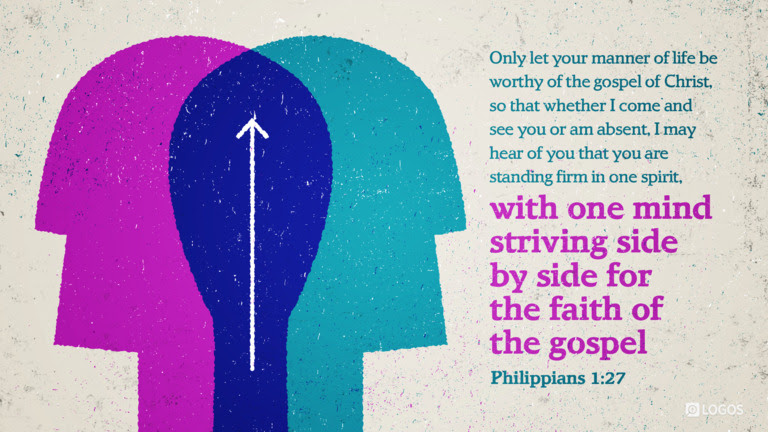 Chapter 1 includes a brief introduction (Philippians 1:1–2) followed by three key sections. First, Paul gives thanks and prayer on behalf of the Philippian Christians (Philippians 1:3–11). Second, he focuses on the expansion of the gospel (Philippians 1:12–18). Third, he emphasizes that, for the believer, to live is Christ and to die is gain (Philippians 1:19–30). Along the way, Paul explains that how the Christian life is a reflection of what they set their mind on. He stresses the importance of rejoicing and joy and connects the faith to concepts such as glory.¹
Our text for today comes from the last section. Prior paul speaks about suffering for Christ. In one of the most quoted verses, v.21, Paul says For to me, to live is Christ [He is my source of joy, my reason to live] and to die is gain [for I will be with Him in eternity].  Paul seems to be saying here I have much to do for the Kingdom on earth but yearn to leave this suffering behind. 
This leads to his emphasis on our text. The keywords are "STRIVE TOGETHER."  Interestingly these words Greek, Sunathleo, soon-ath-leh'-o, are used only by Paul and only here and Philippians 4:3. Both infer living a life worthy of Christ and the Gospel but even more, the meaning invokes a  fighting spirit of togetherness for the advancement of those goals. 
What are you doing to fight the fight today?
TODAY'S PRAYER
Heavenly Father, thank You for Your Word of truth and the Foundation upon Whom we stand – the gospel of Christ crucified. I pray that I may keep the unity of the Spirit through the bond of peace and conduct myself in a manner that is worthy of the gospel of Christ. I pray for all my brothers and sisters in Christ and ask that together we may stand firm in one spirit, with one mind – striving together for the faith of the gospel. I pray I will always be in remembrance of those who fight the good fight of faith praying diligently for them and for those who oppose us.  – to Your praise and glory, in Jesus name, I pray, AMEN
 Adapted from Source:
---
¹ https://www.bibleref.com/Philippians/1/Philippians-chapter-1.html