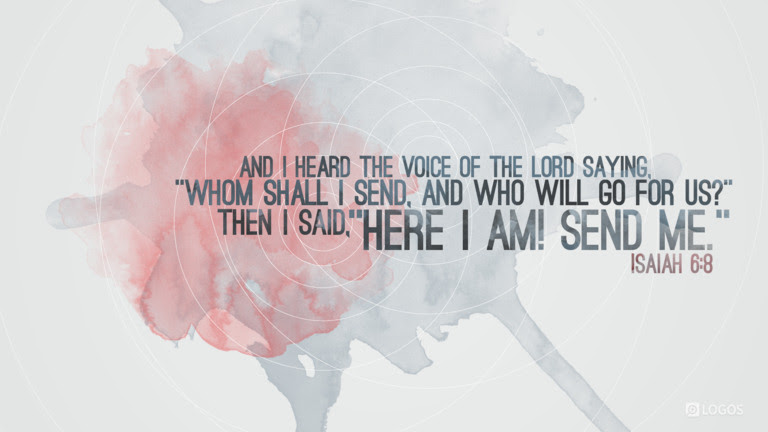 Isaiah 6 can be broken down into two simple parts, Isaiah's vision (v.1-7), and his call to ministry (v.8-13).  Isaiah's vision is of the Lord and His holy temple complete with all the majesty and glory that one could ever imagine.   Then God calls Isaiah to warn or maybe better put fortell of Irael's destruction for their contunial disobediance. 
Our text begins Isaiah's call and is similar in nature to that of Samuel when he says here I am in v.4 & 16 of Chapter 3.  God is calling and has a mission for Isaiah one that may not be pleasant, may require unknown sacrafices, may cause him to make enemies of powerful people yet how did Isaiah respond?  Isaiah had three (3) choices in his response, Here I am, No; Here I am, send someone else; or unconditional obediance Here am I; send me.
Would we repsond the same way? What luxuries of life are we willing for forfeit for the kingdom? (Most churches today have trouble collecting tithes) Would we sacrafice all just to serve our Risen Savior? 
Last November we published a devotional, that had as it's focus Tim Hughes song Here I am to Worship.  I concluded then with; we never know what God's Will will be for our lives tomorrow. So the next time we are signing songs of praise to the Lord of Lords maybe we need to think about the consequences of what we sing.  Here I am Lord…
Are you ready to Unconditionally Serve God today?
Today's Prayer
Heavenly Father, teach me more of Who You are and show me how flawed my understanding is of who I truly am and of all that Christ has done for me. Thank you for cleansing my lips and washing me clean in the blood of Jesus. Thank You for sending Your Holy Spirit to live in me and for building me up, into the living Temple, with all who are saved by grace, through faith in Christ. In a world that has lost its way, I pray in Jesus' name, "Lord. Here am I, send me." AMEN.
Source: https://prayer.knowing-jesus.com/Isaiah/6/8