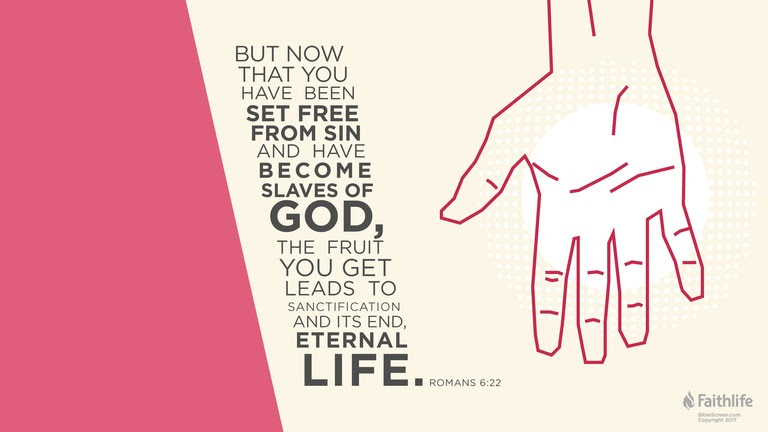 Even mentioning the word "slave" or "slavery" in America today can get you branded as a racist or white supremacist. 
Yet the Bible makes it VERY clear if you are a "TRUE CHRISTAIN" you are a slave to God.  Here in context, Paul writes about the choice we have as believers to be slaves to the old self, sin, and the law or as "true believers" to Christ and Holiness. 
While no one likes to think of themselves as "slaves" Paul says here and in other passages of scripture Colossians 1:7, 2 Timothy 2:24, 1 Peter 2:16, 2 Peter 1:1  the slave, bond-servant is the acceptable role for Christians. We are indebted to Christ for Calvary v.22 But now since you have been set free from sin and should become [willing] slaves to God…
Why become slaves to Christ? A slave MUST obey his master's orders in this case the benefit for obedience is GREAT;  you have your benefit, resulting in sanctification [being made holy and set apart for God's purpose], and the outcome [of this] is eternal life.
Are you a committed Slave to Christ and Holiness or still serving the Law and Sin? 
Father, we thank You for the Word. It is such a joy to our hearts and such a treasure to our souls. We pray, Lord, that as we think about these things, we might rejoice in the fact that before the world began, before the foundation of the world, You determined to set Your love upon us, make us Your slaves, and raise us to be sons who would share Your eternal throne. What a privilege; we thank You for this privilege and make us to be faithful and one day to hear, "Well done, good and faithful slave." Amen. – John MacArthur
---