I seem to be on a path of Devotionals with either a Heart or Peace theme of some sort. Maybe it is because at his core man (apart from Christ) craves peace while being incapable of doing anything but evil. Maybe it is just God's way of telling me this is what needs to be said. Whatever the reason I hope they are edifying to you and Glorying to Him. 
---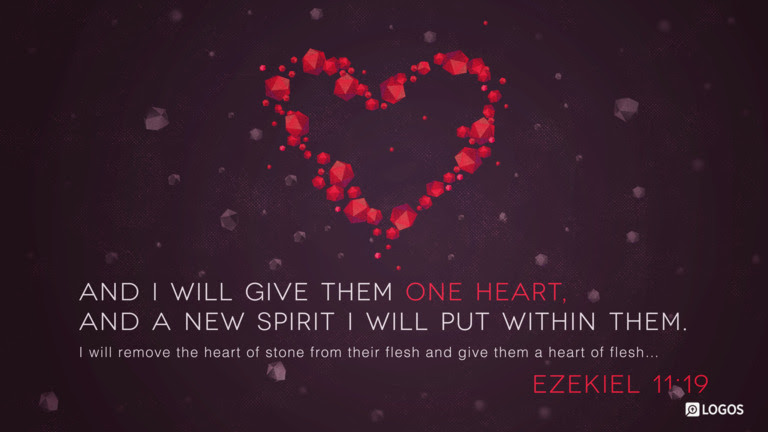 ---
CONTEXT:
Ezekiel is a captive in Babylon, approx 900 km or 560 miles from Jerusalem. Yet this entire Chapter concerns Jerusalem and the goings on there. It is of course Prophesy but more than that it is a testament to the Power of God and the Obedience of one man to God's will. 
v.1-4    Prophesy against the princes of the people.
v.5-10  Reason for Judgement upon Jerusalem
v.11-13 God's Judgement Executed  
v.14-16 God's promise to sustain the Remnant (Faithful)
v.17-21 God's promise of restoration materially (land) and Spiritually to the remnant
---
BREAKDOWN:
And I will give them one heart, – One heart not individual hearts (individualism divides a congregation) but a heart of oneness, uprightness, unified in Spirit. Note in V.18 God says they (we) must first "remove from it all [traces of] its detestable things and all its repulsive things (remnants of paganism)"  You can not be holding on to the old and expect the new. 
and I will put a new spirit within you; – This should be the desire of all who God has touched and called to be His own. It is the promise given to all who repent of their evil ways.
and I will take the stony heart out of their flesh, – We can look at many example in the Bible of a hardened Heart; Pharaoh in Genesis, Balaam while riding the Mule in Numbers, Ananias and Sapphira in Acts 5 to name a few. Nowhere is the bible more clear than in John Chapter 3. Jesus first tells Nicodemus that the ONLY way to Heaven is with a new (unhardened born-again) heart. Later in v.19 Jesus makes it clear man has only himself to blame for all his personal woes. 
and will give them an heart of flesh: – As opposed to a Hard STONY Heart God instills in us a Fleshly (malleable, soft workable) heart capable of receiving and understanding His Word.
---
APPLICATION:
"Evil deeds are the fruit of an evil heart. They are not an aberration from our true self but a revelation of it." — Sinclair B. Ferguson
But length of days with an evil heart is only length of misery and already she begins to know it. All get what they want; they do not always like it. – C.S. Lewis 
But evil is wrought by want of thought, As well as want of heart.  – Thomas Hood
It should be trapper from these non-biblical quotes than man even apart from the bible recognizes the EVIL within our our Hearts. That evil is like a slow gnawing cancer, left unchecked, eating away at its victim, until one day it explodes into terminal stage 4, or biblical terms complete and full rejection of God. 
Fortunately many forms of Cancer today are treatable, and patients recover to live a "normal" life. With God's Heart transplant procedure, our Heart of Stone is removed and a new Heart of Flesh replaces it. God is 100% successful at this, never rejecting a transplanted heart. 
As Aleksandr Solzhenitsyn said "The battleline between good and evil runs through the heart of every man."  God is calling to us as individuals and as a Nation, to change (Transplant) our Hearts. It is time we reject the clear immoral evil we see going on daily and repent before God. Just as He puts before Israel on notice He is also putting us on notice Deuteronomy 11:26-28: 
26 "Behold, today I am setting before you a blessing and a curse— 27 the blessing, if you listen to and obey the commandments of the Lord your God, which I am commanding you today; 28 and the curse, if you do not listen to and obey the commandments of the Lord your God, but turn aside from the way which I am commanding you today, by following (acknowledging, worshiping) other gods which you have not known…