Hate "him" or love "him there is no denying the list of things President Trump has managed to accomplish especially considering the hostile environment congress he has been dealing with since elected. 
Personally I find him brash and many times outright obnoxious, I wish he would stop the tweets and act more presidential, yet that is not Donald Trump and that does not define his ability to lead. In fact those characteristics would have made him a great general officer in the military. – Mike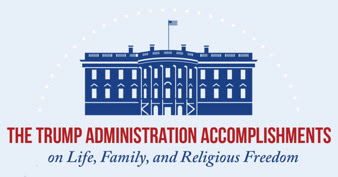 In one of his first actions as president, Trump reinstated and expanded the Mexico City Policy, which blocks funding for international organizations that perform or promote abortions. He promoted the nuclear family by signing the Tax Cuts and Jobs Act into law. And his administration has taken a special interest in protecting religious liberty on both the home and international fronts. President Trump has shown consistent concern for protecting life, the natural family, and religious liberty and has taken steps to advance our shared values unlike any other modern president.
Check out this extensive list of the Trump administration's accomplishments. Then, share this list with your friends, family, and community to let them know why the 2020 election is so important to continuing these policies.