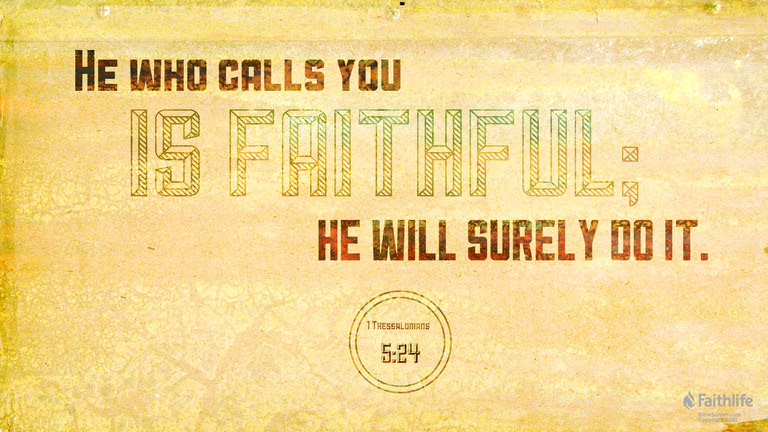 This portion of 1 Thessalonians 5 can be divided into two sections; v.12-22 and v.23-28. The first is a series of exhortations or final instructions on how to live as faithful believers pending the return of Christ.  The latter is Pauls's final salutation and blessing to the church. 
The two are fully and indelibly connected. Paul's benediction v.23-28 depending on your translation begins with either (most common) And the…, Now may…,  both of these signify that all that proceeded (v.12-22) is being wrapped up here. 
Our main text for today,  v.24, is Paul's second sentence in the benediction, a reminder to all that our God is Able.  Some of the more common translations are: 
ESV: "He who calls you is faithful; he will surely do it."
KJV: "Faithful is he that calleth you, who also will do it."
NASB: "Faithful is He who calls you, and He also will do it."
NLT: "God will make this happen, for he who calls you is faithful."
CSB: "He who calls you is faithful; he will do it."
So the obvious is God is Able but able to do what? remember I said that v.12-22 were the key and that they were all about living as faithful believers? So it is God (and God alone) who is able to complete our holiness, make us mature believers, enable us to live faithfully for Christ.  I really like the AMP version of v.24
Faithful and absolutely trustworthy is He who is calling you [to Himself for your salvation], and He will do it [He will fulfill His call by making you holy, guarding you, watching over you, and protecting you as His own].
When God saved us, he called us to be sanctified set apart from the world for the kingdom and His glory.  Paul is reminding the Church at Thessalonica and us of this and that we can not go it alone. 
TODAY'S PRAYER
Thank You Father that You are the one that is going to bring me to spiritual maturity – not in my own strength, but as I yield to the chastening and refining work of Your Holy Spirit within my heart. Have Your way in my life I pray, until I reach a spiritual maturity that measures up to the full and complete standard of Christ – Christ in me the hope of glory – praise Your holy name, AMEN.