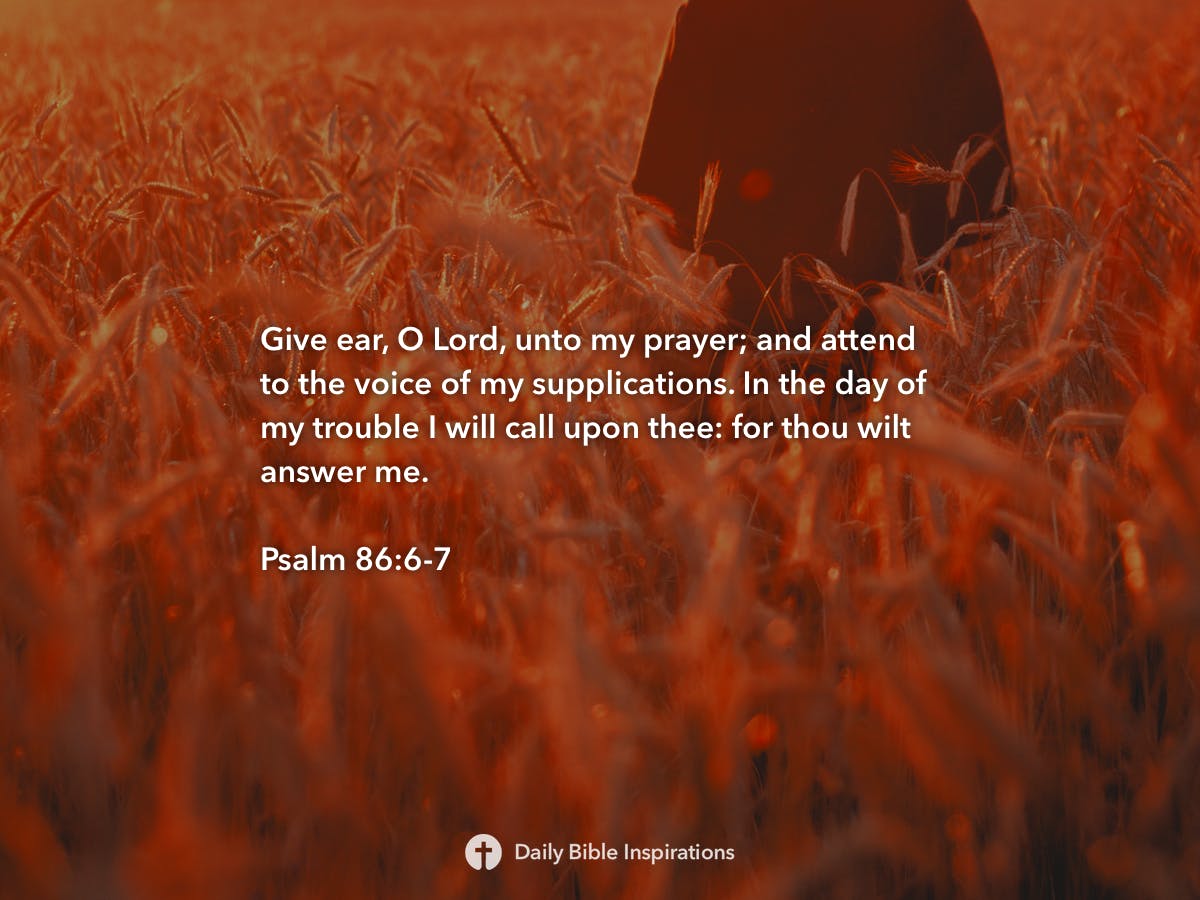 CONTEXT: We find the following in Spurgeon's Treasury of David:
TITLE. A Prayer of David. We have here one of the five psalms entitled Tephillahs or prayers. This psalm consists of praise as well as prayer, but it is in all parts so directly addressed to God that it is most fitly called "a prayer." A prayer is none the less but all the more a prayer because veins of praise run through it. This psalm would seem to have been specially known as David's prayer; even as the ninetieth is "the prayer of Moses." David composed it, and no doubt often expressed himself in similar language; both the matter and the wording are suitable to his varied circumstances and expressive of the different characteristics of his mind. In many respects it resembles Ps 17:1-15, which bears the same title, but in other aspects it is very different; the prayers of a good man have a family likeness, but they vary as much as they agree. We may learn from the present psalm that the great saints of old were accustomed to pray very much in the same fashion as we do; believers in all ages are of one genus. The name of God occurs very frequently in this psalm, sometimes it is Jehovah, but more commomly Adonai, which it is believed by many learned scholars was written by the Jewish transcribers instead of the sublimer title, because their superstitious dread led them to do so: we, labouring under no such tormenting fear, rejoice in Jehovah, our God. It is singular that those who were so afraid of their God, that they dared not write his name, had yet so little godly fear, that they dared to alter his word.
DIVISION. The psalm is irregular in its construction but may be divided into three portions, each ending with a note of gratitude or of confidence: we shall therefore read from Ps 86:1-7, and then, (after another pause at the end of Ps 86:13), we will continue to the end.
Matthew Henry also provides the following breakdown:
This Psalm was published under the title of A Prayer of David; not as if David sung all his prayers, but into some of his songs he inserted prayers; for a psalm will admit the expression of any pious and devout affections. But it is observable how very plain the language of this psalm is, and how little there is in it of poetical flights or figures, in comparison with some other psalms; for the flourishes of wit are not the proper ornaments of prayer.
This psalm is entitled "a prayer of David;" probably it was not penned upon any particular occasion, but was a prayer he often used himself, and recommended to others for their use, especially in a day of affliction. Many think that David penned this prayer as a type of Christ, "who in the days of his flesh offered up strong cries," Heb. 5:7. David, in this prayer (according to the nature of that duty), I. Gives glory to God (v. 8-10, 12, 13). II. Seeks for grace and favour from God, that God would hear his prayers (v. 1, 6, 7), preserve and save him, and be merciful to him (v. 2, 3, 16), that he would give him joy, and grace, and strength, and put honour upon him (v. 4, 11, 17). He pleads God's goodness (v. 5, 15) and the malice of his enemies (v. 14). In singing this we must, as David did, lift up our souls to God with application.
Our text for today looks at just two verses, 6-7 and the plea of David to God in his time of need. The following explains the uniqueness of the verses:
Commentary Critical and Explanatory on the Whole Bible – Unabridged
Verse 6 -From speaking of God's willingness, the Psalmist passes to God's omnipotent power to help. Verse 6. Attend to the voice of my supplications – `deprecations' [ tachªnuwnowtaay (H8469)]. The Psalmist forms a special Hebrew word, feminine plural, not found elsewhere, to convey more impressively the idea of suppliant weakness.
Verse 7 – In the day of my trouble I will call upon thee: for thou wilt answer me. His assurance of being 'answered' is the ground of David's 'calling upon' God in trouble.
---
SERMON
Charles Haddon Spurgeon – August 23, 1888
Scripture: Psalms 86:6-7 – From: Metropolitan Tabernacle Pulpit Volume 34