As hurricane Ida made landfall (and heads towards us in mid Mississippi) I had the thought of how powerful God is. I for one am convinced that God is Sovereign over all things including hurricanes, even if I don't understand the why. What I do know is we can count on His omnipotent Grace to see us through these events.
---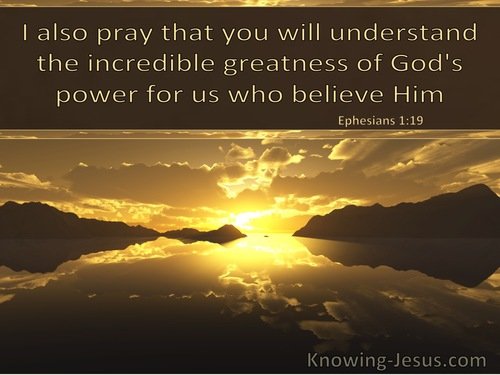 Chapter CONTEXT: Matthew Henry says of this Chapter: A salutation, and an account of saving blessings, as prepared in God's eternal election, as purchased by Christ's blood. (1-8) And as conveyed in effectual calling: this is applied to the believing Jews, and to the believing Gentiles. (9-14) The apostle thanks God for their faith and love, and prays for the continuance of their knowledge and hope, with respect to the heavenly inheritance, and to God's powerful working in them. (15-23)
Our text for today is one extolling God's omnipotence. A google search or that of some Biblical software will lead one to find a list with many variations of verses. The consistent theme however is that God is all-powerful and man is not.
Here are some of the things God has power over:
Creation
Salvation
Understanding
Resurection
Justice
Nations
________?
The above quote sums it up pretty well if God is not the omnipotent ruler of the universe what peace can a believer have. What assurance can we have, what joy? I do not know about you but I take great comfort in the fact that He hath made the earth by his power and ruleth by his power forever.
Praying for everyone in Ida's path and recovery for those displaced by her wrath.