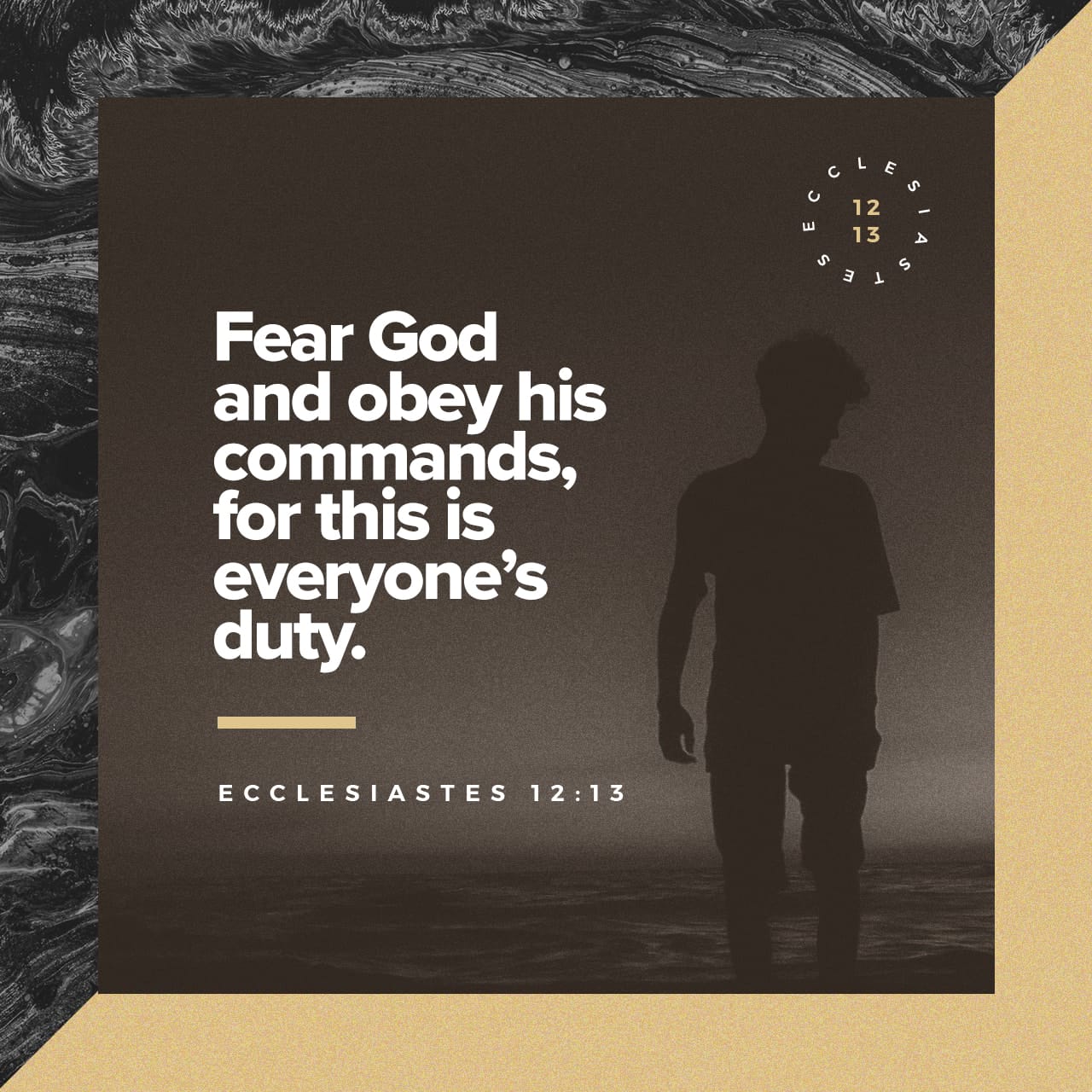 CONTEXT: Chapter 12 has tow clear divisions, v.1-7 speak about remembering our youth as we grow older and physical and mental affirmatives come upon us. Then in v.8-14 we are reminded of the wise teacher/preacher and all his instructions. The overarching theme being a repeat of Vanity of vanities, saith the preacher; all is vanity.
Our main text, v.13, for today is the key to life, or as Solomon says, Let us hear the conclusion of the whole matter. NOTHING written before this or after matter more than what Solomon is about to write.
What is that key? Simple; fear God, and keep his commandments, that is what man was put on the earth to do. Fear God here meaning to stand in awe and reverence of Him at all times. To willingly (never grudgingly) keep His commandments. The Puritan Catechism similarly says: Q1: What is the chief end of man? A1: Man's chief end is to glorify God, ( 1 Corinthians 10:31 ) and to enjoy him for ever. ( Psalms 73:25-26 )
Why is this [is] the whole [duty] of man? In the Hebrew this could be rendered as This is the whole man, read that way the implication is clear, without fearing God and keeping His commandments man is not whole, not complete as a man.
If that was not enough "incentive" to bring man instep with God, one would think v.14 would certainly do so;  For God will bring every act to judgment, every hidden and secret thing, whether it is good or evil. God sees all hears all and will judge all.
---

Pray for Grace to Assist you that you may be Diligent in your Duty
Lord, quicken us to work the works of him who sent us while it is day, because night is coming, wherein no one can work; John 9:4(ESV) and what good our hands find to do, enable us to do it with all our might, for there is no work or knowledge in Sheol, to which we are going. Ecclesiastes 9:10(ESV)
Lord, grant that we may never be slothful in zeal, but fervent in spirit, serving the Lord; Romans 12:11(ESV) steadfast and immovable, always abounding in the work of the Lord, knowing that in the Lord our labor is not in vain. 1 Corinthians 15:58(ESV)
Lord, make us zealously affected in every good work; Galatians 4:18(KJV) and in whatever we do, enable us to work heartily, as for the Lord and not for men. Colossians 3:23(ESV)
Lord, enable us to do the work of every day in its day, as each day requires, Ezra 3:4(ESV) making the best use of the time, because the days are evil; Ephesians 5:16(ESV) that when our Master comes, he may find us so doing. Luke 12:43(ESV)