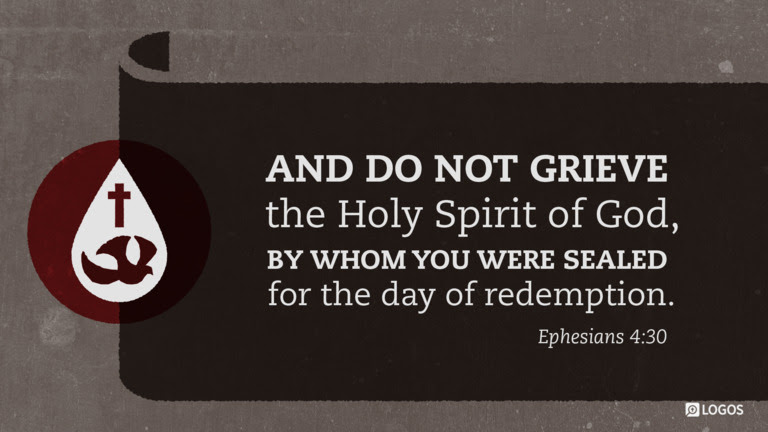 GRIEVING THE HOLY SPIRIT

 
---
CONTEXT 
Most modern bibles have some sort of heading like Unity of the Spirit (AMP, Unity, and Diversity in the Body of Christ (CSB) or Unity in the Body of Christ (ESV) at the beginning of Chapter Four. While these can be helpful, as a general theme they are not theologically complete.  My simple break down of Ephesians 4 looks like this:
v.1–6

 

Paul urges his readers to live according to the calling they have received as believers 

v. 4:7–32

Paul shifts focus to the new life believers have in Christ

v.7-16

Using spiritual gifts and graces from God

v. 17-24

To live pure and holy lives

v. 25-32

Always being weary of worldly lies and sins
Our text today is v.30 above and we will look at only the first part of the text since it is packed with so much good theological stuff.
---
BREAKDOWN
v. 30a (KJV)

And grieve not the holy Spirit of God, 
Paul says  do not give, the Greek word is lypeite, which means to "cause grief," or "make sorrowful."  Why is that so important and what are its biblical and theological implications for Christians? 
First, some more CONTEXT, what is Paul speaking about when he mentions grieving the Holy Spirit. Look at v.29 and v.31, it seems reasonably clear that he is saying our words our actions done in a manner that are not edifying to ourselves and glorifying to God make the Holy Spirit Sorrowful. 
Whenever we digress and sin, whether it be by commission or omission, the Holy Spirit is grieved in accordance with His deity. He is God, the third person of the trinity, but most importantly the indwelling spirit in every true believer. Now consider the God can not dwell with evil, Psalm 5:4 and you can see the conflict and sorrow brought upon the Holy Spirit every time we sin. 
God's Spirit is especially sensitive to sin because of His close relationship with us, those who have been saved and defined as the Lord's holy people (1 Peter 1:13–16). The Spirit seals us "for the day of redemption" (Eph. 4:30; see 1:13–14) — He dwells within us when we trust in Christ Jesus, marking us as the people of God who will be spared divine wrath on judgment day. By the sanctifying work of the Holy Spirit, we are increasingly conformed to our Savior's image, and a return to a pattern of life wholly dominated by sin is impossible for all those whom the Spirit has sealed (Rom. 8:29–30). Still, even Christians may fall into significant sin, which grieves the Spirit, introducing a distance between Him and us. – Grieving the Holy Spirit 
The grieving of the Holy Spirit has four main theological ideas for me:
All men even those saved "Christians" are capable of sin – this is clearly being addressed to believers no one can or should question that
It proves God cares about us – only a caring and merciful God would grieve when we do wrong
It validates our eternal life – Paul never says sin and you are done for, in fact as we will discuss tomorrow the opposite
It motivates us to live a Holy life – Just because we know we are redeemed and have no fear of losing the SpiritRomans 8:37–39, this is not a license to sin, in fact, the opposite is true. ALL TRUE Christians we despise sin and want to, no more than that have a deep-rooted desire to live a Holy life. 
---
APPLICATION
Modern evangelicals seem to have forgotten that the Holy Spirit's primary role is to  "convict the world of guilt in regard to sin and righteousness and judgment"  John 16:8.  Yes, He is also a helper, comforter, and guide to all believers John 14:16 but the conviction of sin in all mankind is the primary mission. 
We have shown today that all men are capable of sin and that all men grieve the Holy Spirit by that sin.  God expects us and we should if truly saved want to immediately confess our sins. So please join me in prayer:

The offense which by sin
I have given to the Holy God
I have grieved the Holy Spirit of God, by whom I was sealed for the day of redemption. Ephesians 4:30(ESV)
By breaking the law I have dishonored God, Romans 2:23(ESV) and given bitter provocation Hosea 12:14(ESV) to the Holy One of Israel. Isaiah 1:4(ESV) And many a thing that I have done has displeased the Lord. 2 Samuel 11:27(ESV)
God has been broken over my whoring heart and my eyes that have gone whoring after my idols. Ezekiel 6:9(ESV)
I have put him to the test, and to the proof, and grieved him in the wilderness; Psalm 95:9-10(ESV) have rebelled, and grieved his Holy Spirit, Isaiah 63:10(ESV) and pressed him down with my iniquities, as a cart full of sheaves presses down. Amos 2:13(ESV)
---
OTHER RESOURCES