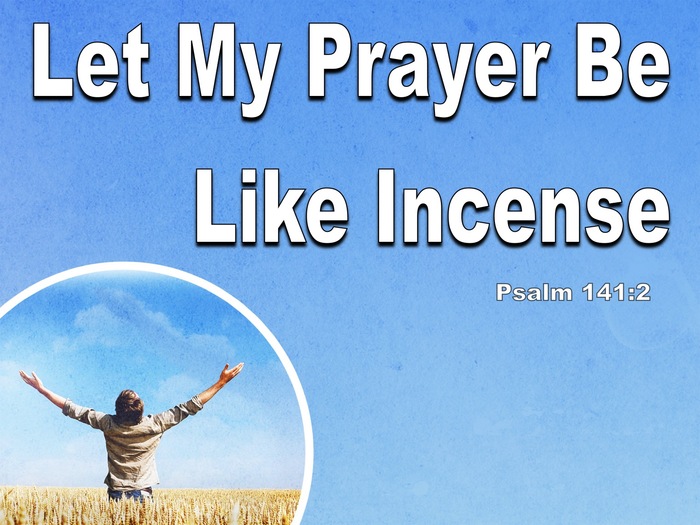 Praying for others
---
CONTEXT
David was in distress when he penned this psalm, pursued, it is most likely, by Saul, that violent man. Is any distressed? Let him pray; David did so, and had the comfort of it.
I. He prays for God's favourable acceptance (v. 1- 2).
II. For his powerful assistance (v. 3,-4).
III. That others might be instrumental of good to his soul, as he hoped to be to the souls of others (v. 5- 6).
IV. That he and his friends being now brought to the last extremity God would graciously appear for their relief and rescue (v. 7-10).
The mercy and grace of God are as necessary to us as they were to him, and therefore we should be humbly earnest for them in singing this psalm. – Matthew Henry's Concise Commentary 
In the first installment we looked at Praying for God's favorable acceptance. Yesterday's  topic was petitioning for His assistance, and today we will explore Praying to God for others. 
---
Breakdown
v.5 – Let the righteous smite me; it shall be a kindness: and let him reprove me; it shall be an excellent oil, which shall not break my head: for yet my prayer also shall be in their calamities.
Of all the verses of Psalms this and the following may be one of the hardest to interpret. Let the righteous smite me… David is basically saying he would prefer to be severely reprimanded, corrected, rebuked etc.  by a righteous person than be in the company of evil. So he will pray for them. 
The righteous, etc. The minister cannot be always preaching; two or three hours, may be, in a week, he spends among his people in the pulpit, holding the glass of the gospel before their faces; but the lives of professors, these preach all the week long: if they were but holy and exemplary, they would be as a repetition of the preacher's sermon to their families and neighbours among whom they converse, and keep the sound of his doctrine continually ringing in their ears. This would give Christians an amiable advantage in doing good to their carnal neighbours by counsel and reproof, which now is seldom done, and when done it proves to little purpose, because not backed with their own exemplary walking. "It behooves him", saith Tertullian, "that would counsel or reprove another, to guard his speech with the authority of his own conversation, lest, wanting that, what he says puts himself to the blush." We do not love one that hath a stinking breath to come very near us; such, therefore, had need have a sweet scented life. Reproofs are a good physic, but they have an unpleasant reception; it is hard for men not to throw them back on the face of him that gives them. Now nothing is more powerful to keep a reproof from thus coming back than the holiness of the person that reproves. "Let the righteous smite me", saith David, "it shall be a kindness: and let him reprove me; it shall be an excellent oil, which shall not break my head." See how well it is taken from such a hand, from the authority that holiness carries with it. None but a vile wretch will smite a righteous man with reproach for smiting him with a reproof, if softly laid on, and like oil fermented, and wrought into him, as it should, with compassion and love to his soul! Thus we see how influential the power of holiness would be unto the wicked, neither would it be less upon our brethren and fellow Christians. Holy David professed he would take it as a kindness for the righteous man to smite him; yea, as kindly as if he broke a box of precious oil upon his head, which was amongst the Jews a high expression of love. –William Gurnall.
v.6 – When their judges are overthrown in stony places, they shall hear my words; for they are sweet.
Most commentators agree David is speaking about those who would oppress him. At some point all our unrighteous oppressors will come to know the truth we spoke, why? Because all our words spoken in Christ are surely words; for they are sweet. That is why a true Christian never stops sharing the Good News. 
They shall hear my words; for they are sweet. This is especially true of all the words which David spake by inspiration, or the Spirit of God spake to him; articulately in his book of Psalms; concerning the Messiah, the covenant of grace, and the blessings of it; of the rich experiences of grace he had, and the several doctrines of the gospel declared by him; which were sweet, delightful, and entertaining to those who have ears to hear such things; or whose ears are opened to hear them, so as to understand them and distinguish them, but to others not. –John Gill.
---
APPLICATION
No one likes to be corrected, however the correction of a righteous man is but a sweat savor to God. Respond in kind with a Fragrant Prayer of your own for both those who would persecute and profit you. Also, do not neglect the thank God for the times of discipline that drew you nearer to the cross. 

 Supplication to God for Others
We must pray for the whole world of mankind, the lost world; and thus, we must honor everyone, 1 Peter 2:17(ESV) and, according to our capacity, do good to everyone. Galatians 6:10(ESV)
I pray, as I am taught, for all people, believing that this is good and pleasing in the sight of God my Savior, who desires all people to be saved and to come to the knowledge of the truth and of Jesus Christ, 1 Timothy 2:3-4(ESV) who gave himself as a ransom for all. 1 Timothy 2:6(ESV)
O let your way be known on earth, Psalm 67:2(ESV) that barbarous nations may be civilized, and those who live without God in the world may be brought to the service of the living God; Ephesians 2:12(ESV) and thus, let your saving power be known among all nations. Let the peoples praise you, O God; yes, let all the peoples praise you: O let the nations be glad and sing for joy, for you judge the peoples with equity and guide the nations upon earth. Psalm 67:2-4(ESV)
For Support While Being Disciplined 
Though for the moment all discipline seems painful rather than pleasant, yet later it yields the peaceful fruit of righteousness and proves to be for my good, that I might share your holiness. Hebrews 12:10-11(ESV)
I have had reason to say that it was good for me that I was afflicted, that I might learn your statutes; Psalm 119:71(ESV) for before I was afflicted I went astray, but now I keep your word. Psalm 119:67(ESV)
It has been but for a little while, and when it was necessary, that I was grieved by various trials; and I beg that all the trials of my faith may be found to result in praise and glory and honor at the revelation of Jesus Christ, whom, though I have not seen, I love; though I do not now see him, yet I believe in him and rejoice with joy that is inexpressible and filled with glory, and am longing to receive the outcome of my faith, the salvation of my soul. 1 Peter 1:6-9(ESV)