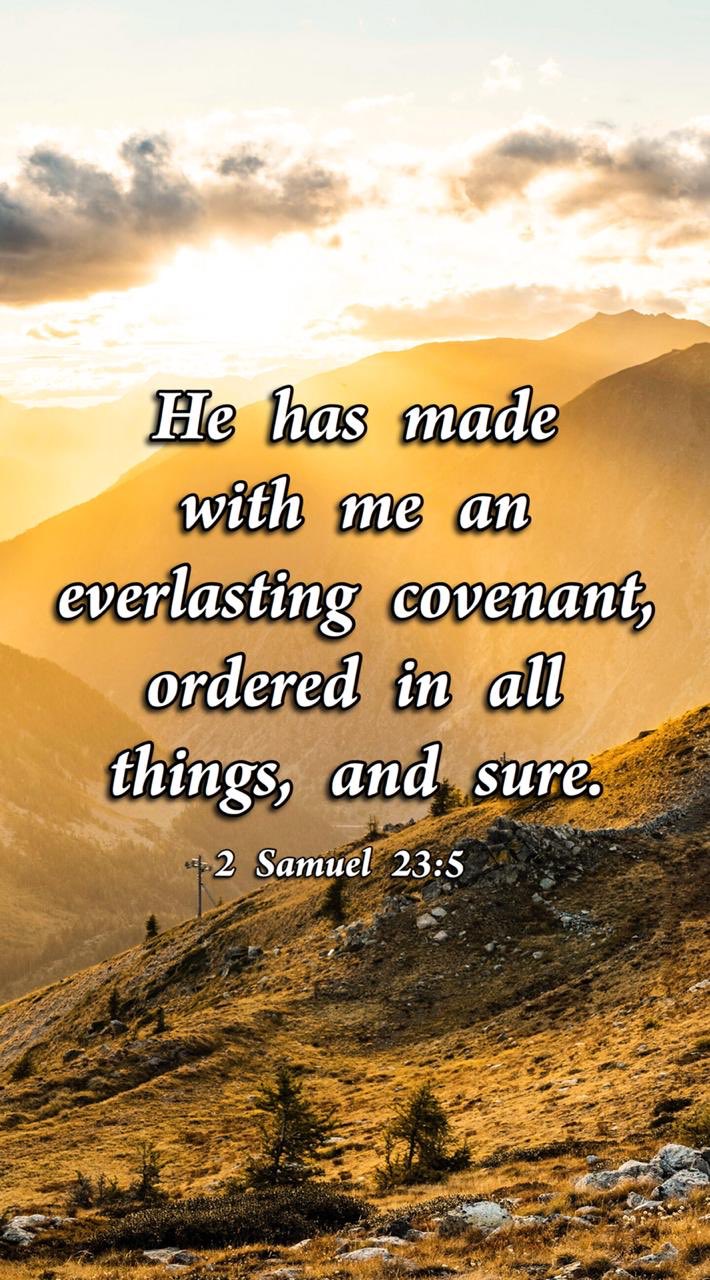 ---
CONTEXT:
Chapter 23 almost universally begins with Now these are the last words of David or something very similar. 
C.H. Spurgeon preached a sermon on April 15, 1855, on this text entitled "David's Dying Song". His opening remarks are worthy of relating here: 
These be the last words of David; so we read at the commencement of the chapter. Many have been the precious sentences which have fallen front his inspired lips; seraphic has been the music which has dropped from his fingers when they flew along the strings of his harp; but now that sweet voice is to be hushed in death, and now the son of Jesse is to sleep with his fathers. Surely it were well to press around his bed, to hear the dying monarch's last testimony; yea, we can conceive that angels themselves would for an instant check their rapid flight, that they might visit the chamber of the dying mighty one, and listen to his last death song. It is always blessed to hear the words of departing saints. How many choice thoughts have we gained in the bedchamber of the righteous, beloved? I remember one sweet idea, which I once won from a death-bed. A dying man desired to have one of the Psalms read to him, and the 17th being chosen, he stopped at the 6th verse, "Incline thine ear unto me and hear my speech," and faintly whispering, said, "Ah, Lord, I cannot speak, my voice fails me; incline thine ear, put it against my mouth, that thou mayest hear me." None but a weak and dying man, whose life was ebbing fast, could have conceived such a thought. It is well to hear saints' words when they are near heaven—when they stand upon the banks of Jordan. But here is a special case, for these be the last words of David. They are something more than human utterances; for we are told that the Spirit of the Lord spake by him, and his word was in his tongue. These were his closing accents. Ah! methinks, lisping these words he rose from earth to join the chorus of the skies. He commenced the sentence upon earth, and he finished it in heaven. He began, "Although my house be not so with God;" and as he winged his flight to heaven, he still sang, "yet hast thou made with me an everlasting covenant, ordered in all things, and sure: "and now before the throne he constantly hymns the same strain—"yet hast thou made with me an everlasting covenant, ordered in all things, and sure." I hope, my friends, there are many of us who can join in this verse this morning, and who hope to close our earthly pilgrimage with this upon our tongue.
---
BREAKDOWN: 
"Although my house is not so with God, – While the Bible is very explicit about Solomon following David, there is not great detail about all his sons. We do know that David himself did not always live a upright life and many of his sons followed suit. Further David's rule as a King left much to be desired. 
** It should be noted that many modern translations wrongly have this as "If my house were not right with God" or some such implying all was perfectly well which was not true. 
Yet He has made with me an everlasting covenant, – Yet He, GRACE on display, even though David's house was not completely in order God's held firm to His covenant with David.  David understood that covenant was not based upon David's accomplishments but God's promise. 
Ordered in all things and secure. – God is not the author of confusion 1 Corinthians 14:33-40 and that includes this and any covenant or promise He makes. David uses a sort of technical jargon here as one who would drawn up a binding legal contract between parties to insure no loopholes, providing for all possibilities and leaving no room for misunderstandings. 
 For this is all my salvation and all my desire; – David's greatest desire is for God's promise His covenant to be fulfilled. David does not want riches for his sons or fame for them, he desires God's Will Be Done.  
Will He not make it increase? –  This is a simple statement of a confident dying man, will God not make it so? 
---
APPLICATION:
I do not know where you are reading this today, but wherever it may be, I am relatively sure there is some sort of turmoil going on. Whether it is COVID-19 restrictions, Riots in major cities across the U.S., Hurricanes, Earthquakes, Famine or something else we live in a world full of chaos.  
Chaos can be defined as without due form or order, which is the exact opposite of what David says the Lord God brings, Ordered in all things and secure(ity). We have many choices before us today in this crazy chaotic world, we can turn to "self-help" books, written by the same humans causing all the chaos. Many turn to drugs, alcohol and other forms of escape. Or we can turn the True Convant Maker, the one who was powerful enough and brought order to the great void. If you are going to rely on someone to bring order in the midst of chaos whom would you rather depend on man or God?