One of my morning devotionals included 1 Corinthians 15:55-57. With so many Psalm 51:worldwide sick and dying from COVID-19 I thought it an appropriate subject for today's devotional. – Mike 
If you have never been and visited Arlington National Cemetery it is a sobering and solemn trip worth taking.  The men and women interned there gave the ultimate sacrifice for our freedoms, they understood the Sting of Death, so that America could have a Victory. 
The question is, are they and we a part of the Greatest Victory ever; the one that defeated Death Eternal.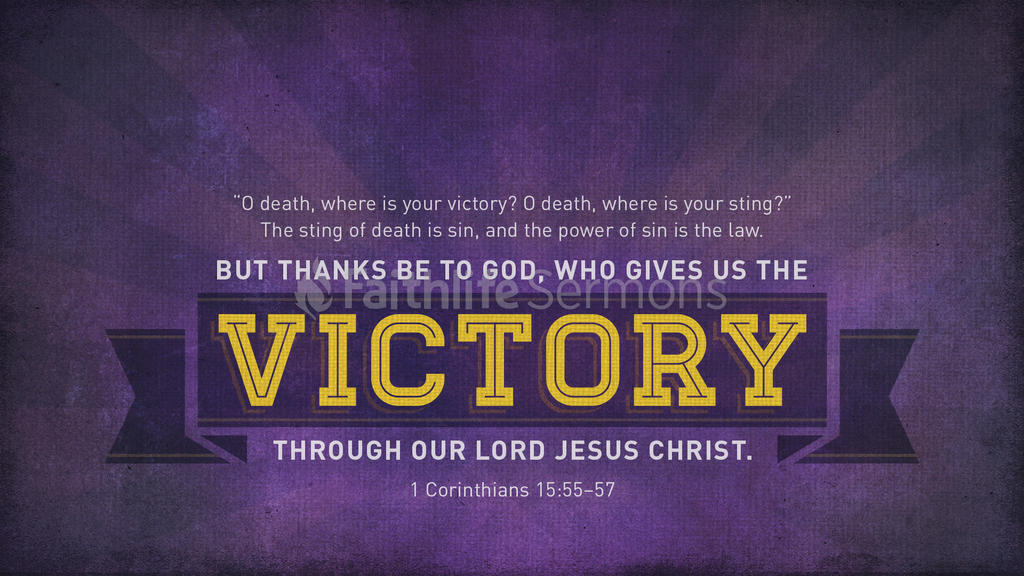 ¿Dónde está, oh muerte, tu aguijón? ¿Dónde, oh sepulcro, tu victoria? 

56 ya que el aguijón de la muerte es el pecado, y el poder del pecado, la ley. 57 Mas gracias sean dadas a Dios, que nos da la victoria por medio de nuestro Señor Jesucristo. (RVR 1960) 
CONTEXT:
We all know or at should know and understand that mankind is born with a sin nature (Psalm 51:5). That God is righteous and as such could not tolerate eternity with sinful people (even His chosen) so the only just thing was death  Romans 6:23. 
If you are a truly converted, fully repented, Born again believer who as Christ not only as savior but LORD of your life, then you should also know and feel reassured that eternal life is yours John 3:36, 1 John 5:11–13.
1st Corinthians was written by the Apostle Paul to set some things straight that had gone astray in the church at Corinth. The church was immature (young) and was in danger of falling away into false teachings and doctrines.
Chapter 15
is all about understand the Resurrection of Christ Jesus. Matthew Henry's Concise Commentary breaks it down this way:
The apostle proves the resurrection of Christ from the dead. (1-11) Those answered who deny the resurrection of the body. (12-19) The resurrection of believers to eternal life. (20-34) Objections against it answered. (35-50) The mystery of the change that will be made on those living at Christ's second coming. (51-54) The believer's triumph over death and the grave, An exhortation to diligence. (55-58)
v.55 "O death, where is your victory? O death, where is your sting?"
What is it that a true believer has to fear about death? Death is little more than a bee sting. He who ruled the fleshly world (Satan) has himself been conquered. We should all have the attitude of Paul, I am hard pressed between the two. My desire is oto depart and pbe with Christ, for that is far better. (Philippians 1:23). I am not saying we should wish for death but absent from the body and present with the Lord (2 Corinthians 5:8) is not a bad option. 
v.56 The sting of death is sin, and the power of sin is the law. 
The only way death can sting us is through sin. The only way we understand the power, guilt and depth of our transgressions against god is the Law.  It amazes me today that mankind seems to want nothing to do with Christian-Judaeo values or morals they would rather live in a world of all out chaos and despair.  WARNING, watch what you wish for. 
v.57 But thanks be to God, who gives us the victory through our Lord Jesus Christ.
Amen and Amen; this Victory is all from God and has nothing to do with us. God gives the Victory, that death and hell had targeted for us (True Believers), through Christ alone 1 Timothy 2:5.
CONCLUSION:
Believers should praise God daily for the Victory over Death. We should be living our lives in a manner of gratitude that reflects our awe and reverence for the Greatest Sacrifice ever made; the one made by Christ at Calvary for you and me. That life should be one ready to me death head on but wanting to share life for the Glory of God.