Leave a comment
April 9, 2019 by directorfsm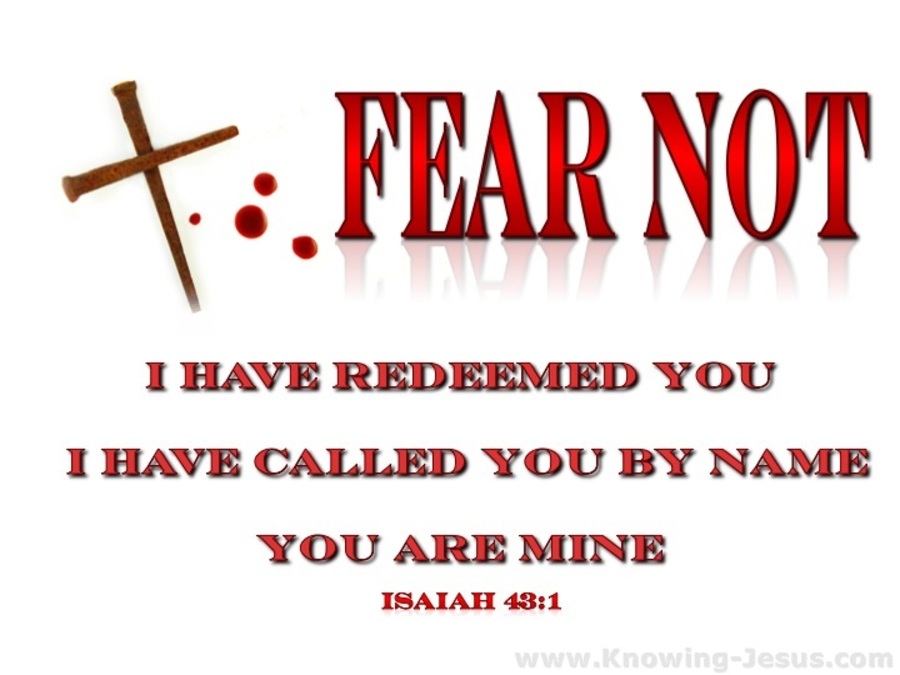 But now thus says the LORD, he who created you, O Jacob, he who formed you, O Israel: "Fear not, for I have redeemed you;

I have called you by name, you are mine.


 Isaiah 43:1 (ESV)
While many focus on the "fear not" aspect of this verse I think the key is the last part I have called you by name, you are mine. Yes in context this verse is speaking to Israel (we were obviously not around) but taking the "Whole Counsel of God" come to understand it is applicable to us today. 
With that in mind lets take another look; the obvious Fear not, why because we (God's chosen people, Jew and Gentile who from before the foundation of the world were laid Eph 1:4)  have been redeemed. Then things get real personal God says I have called you and not just any call but personally by name. Why does God do this and not just send a messenger after all He is pretty busy one would think running the universe; because you are mine (we are His).
Maybe it is just me, but that brings me comfort in knowing my God is a personal God, a God that knows me.  – Mike
THY NAME: MY NAME
Great stress is laid on names in Scripture. These two parallel and antithetic clauses bring out striking complementary relations between God and the collective Israel. But they are as applicable to each individual member of the true Israel of God.
I. What does God's calling a man by his name imply?
1. Intimate knowledge.
Adam naming the creatures.
Christ naming His disciples.
2. Loving friendship.
Moses, 'I know thee by name, and thou hast found grace in my sight.'
3. Designation and adaptation to work.
Bezaleel- Exodus 31:2; Cyrus- Isaiah 45:3; Servant of the Lord- Isaiah 49:1.
II. What does God's calling a man by His name imply?
1. God's possession of him. That possession by God involves God's protection and man's safety. He does not hold His property slackly. 'None shall pluck them out of My Father's hand.'
2. Kindred. The man bears the family name. He is adopted into the household. The sonship of the receiver of the new name is dimly shadowed.
3. Likeness.
The Biblical meaning of 'name' is 'character manifested.'
Nomen and omen coincide.
We must bring into connection with the texts the prominence given in the Apocalypse to analogous promises.
'I will write on him the name of My God.' That means a fuller disclosing of God's character, and a clear impress of that character on perfected men 'His name shall be in their foreheads.'
I have called thee by thy name; with an effectual calling, which is of particular persons, and those by name, even the same that are redeemed by Christ; for whom he has redeemed by his precious blood, they are called by the grace of God to special blessings of grace, with a high, holy, and heavenly calling; and have no reason to fear anything, since they are the chosen of God; have a right to all spiritual blessings; all things work together for their good; they shall persevere to the end, and at last be brought to glory, to which they are called:
thou art mine; such as are redeemed by Christ, and called by his grace, they are his Father's gift, and his own purchase; they voluntarily give up themselves to him, under the influence of his Spirit and grace; they are his by profession and possession; they are his portion, people, sheep, and spouse; and his interest in them, and theirs in him, serve to prevent fear; such need not fear wanting anything, nor any enemy, nor perishing, or miscarrying of heaven and happiness, to which fears they are subject.