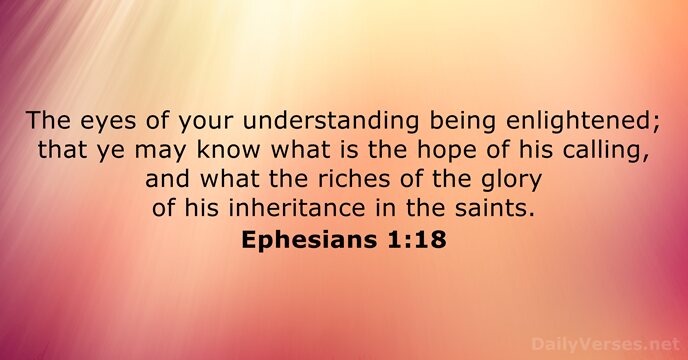 CONTEXT: Here we have Paul's letter to the Church at Ephesus. It was apparently during Paul's second missionary journey ( around A.D. 52), that Paul visited Ephesus, and planted the church there (Acts 18:19). He returned and spent considerable time there during his third missionary journey (around A.D. 54-56). Matthew Henry breaks down the chapter as follows: A salutation, and an account of saving blessings, as prepared in God's eternal election, as purchased by Christ's blood. (1-8) And as conveyed in effectual calling: this is applied to the believing Jews, and to the believing Gentiles. (9-14) The apostle thanks God for their faith and love, and prays for the continuance of their knowledge and hope, with respect to the heavenly inheritance, and to God's powerful working in them. (15-23)
Today with all life's turmoil I want to look at one phrase in our main text, the hope of his calling. First let us note that this "Hope" is of God, (His Calling) not something we manufacture. So what is this "hope" that we have been called to? The bible has much to say about it:
1 Peter 1:3 calls it a living hope
Jeremiah 29:11 says God's plans for us give us this a realistic hope
Romans 15:13 says this is a hope that fills us with joy and peace
Collosians 1:27 says it is the hope of future glory
Maybe the best or most applicable verse for us today is Hebrews 11:1 because Hope is directly tied to Faith. Biblical Hope is a key part of the very foundation of Biblical Faith. We can have the reassurance of "Faith" because we have a Realistic Hope in a glorious eternal future.
In closing, I want to share two things today. First is an article from The Federalist, entitled A 2021-Wearied World Can Still Rejoice Over The Same Old 'Thrill Of Hope'. In it, the author reminds us that no matter how bad things around us seem there is always "Hope" and that Hope has an embedded thrill, namely Christ's birth.
The second thing is to remember that we live not for this life. Paul in his letter to the church at Corinth reminded them of this in 1 Corinthians 15:19. We live for Christ and we are soon to celebrate His birth. Here is this simple version of O' Holy Night for your enjoyment: