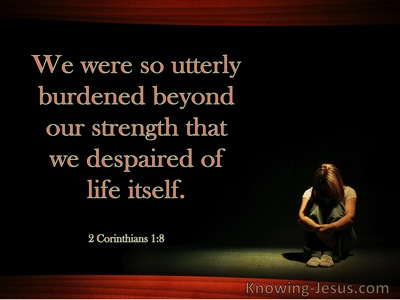 Depression even for True Believers is a very real thing. If you do a google search for Bible verses about depression or Christian depression helps you will likely come up with a multitude of self-help articles books or lists of verses to read, all designed to get you out of your funk.
While I will not minimize the place or effectiveness of these (after all our sermon is such) we must always remember that the only true way to peace in our life is through a right relationship with God.
One of the best examples of this, Paul continuing in Second Corinthians 7:5-16, says that they were afflicted on every side, But God, who comforts and encourages the depressed and the disquieted, comforted us.
Despite all the books and bits of help, there are only two types of solutions for depression, Godly and Worldy. Paul knew it was God, who comforts and encourages the depressed, not man. sure God can use our fellow man in the process but it is always God and He alone deserves the Glory.
---
If you are in need of immediate help. Dial 911, or call the National Suicide Prevention Lifeline at 800-273-8255
---
Christian based chatline that operates
Saturday and Sunday – 3pm to 11pm PST
Monday through Friday – 12pm to 11pm PST
---
SERMON
The Cure of Melancholy and Overmuch Sorrow, by Faith
by Richard Baxter