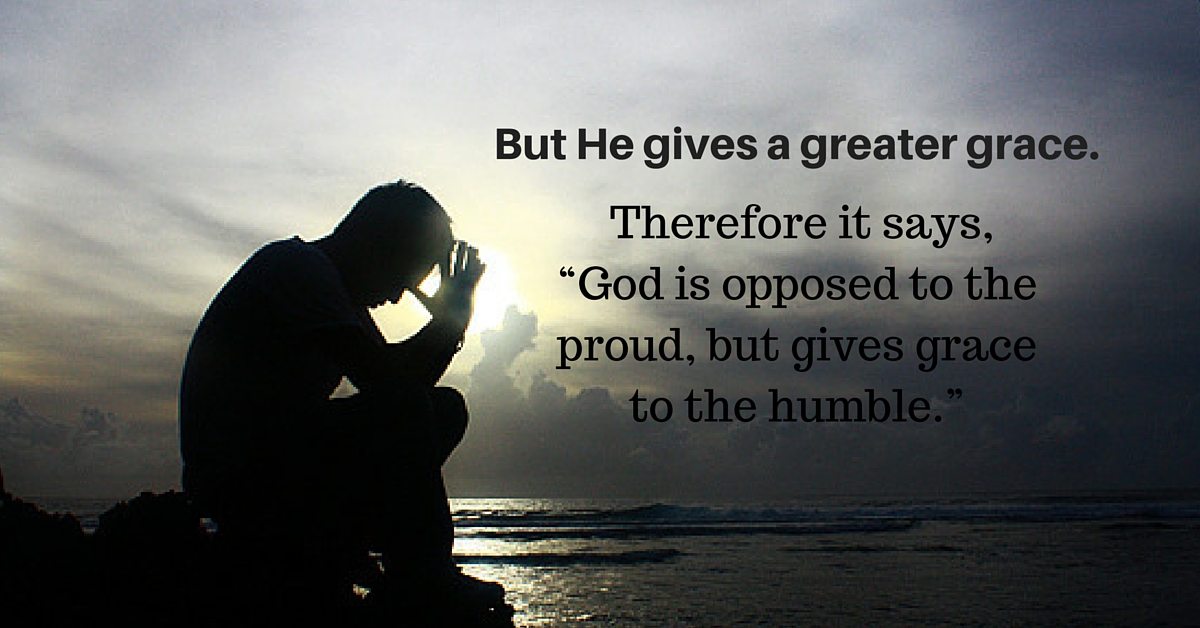 CONTEXT: Chapter 4 continues where 3 leaves off, reminding the reader that seeking after self, worldly gains, and wisdom will only lead to conflict within the church and their personal lives. Matthew Henry divides it as follows: Here are cautions against corrupt affections, and love of this world, which is enmity to God. (1-10) Exhortations to undertake no affairs of life, without constant regard to the will and providence of God. (11-17)
Before we briefly look at the specifics of our main verse, let me caution the reader that the text is not implying that humility equals being a pushover, a do-nothing, or someone who never speaks up. As always I implore you to read the Whole Counsel of God, Christ Jesus was anything but one of those things, yet He carried out His assigned duties on earth with great Humility.
But he giveth more grace. That is God will always provide more Grace to both believer and non-believer (Common Grace) but especially the effectual Grace needed for Salvation and a lasting relationship with the Triune God.
Wherefore he saith, God declares
God resisteth the proud, those who are so self-absorbed that they scoff at the notion of God. Psalm 1:1, Romans 1:18
but giveth grace unto the humble. those who will admit that apart from Christ they love the Darkside. John 3:17-21. It can be hard to "Back down" from our self-righteous, self-imposed throne, but that is exactly what God expects of His Children. To humble themselves as obedient children like Christ did Philippians 2:5-7.

Pray for the Grace of Self-Denial and Humility
We must pray for the grace of self-denial.
Lord, give us grace to deny ourselves, to take up our cross daily, and to follow Christ; Matthew 16:24(ESV) to discipline our bodies and keep them under control. 1 Corinthians 9:27(ESV)

Lord, keep us from being lovers of ourselves, 2 Timothy 3:2(ESV) from being wise in our own eyes and leaning to our own understanding. Proverbs 3:5-7(ESV)

Lord, give us to seek, not our own good only, but also the good of our neighbor. 1 Corinthians 10:24(ESV)

And grant that we may not live to ourselves or die to ourselves, but whether we live or die, we may be the Lord's, and may live and die to him. Romans 14:7-8(ESV)
We must pray for humility and meekness.
Lord, give us to learn from Christ to be gentle and lowly in heart, that we may find rest for our souls; Matthew 11:29(ESV) and that herein the same mind may be in us that was also in Christ Jesus. Philippians 2:5(ESV)

Lord, conceal pride from us, Job 33:17(ESV) and clothe us with humility; 1 Peter 5:5(ESV) and put upon us the imperishable beauty of a gentle and quiet spirit, which in your sight is very precious. 1 Peter 3:4-5(ESV)

Lord, give us grace to walk in a manner worthy of the calling to which we have been called, with all humility and gentleness, with patience, bearing with one another in love. Ephesians 4:1-2(ESV)

Let anger never lodge in our bosoms, Ecclesiastes 7:9(ESV) nor the sun ever go down on our anger; Ephesians 4:26(ESV) but enable us to show perfect courtesy toward all people, because we ourselves were once foolish and disobedient. Titus 3:2-3(ESV)

Let us be clothed as becomes the elect children of God, holy and beloved, with compassionate hearts, kindness, humility, meekness, and patience, Colossians 3:12(ESV) that being merciful, even as our heavenly Father is merciful, Luke 6:36(ESV) we may be perfect as he is perfect. Matthew 5:48(ESV)