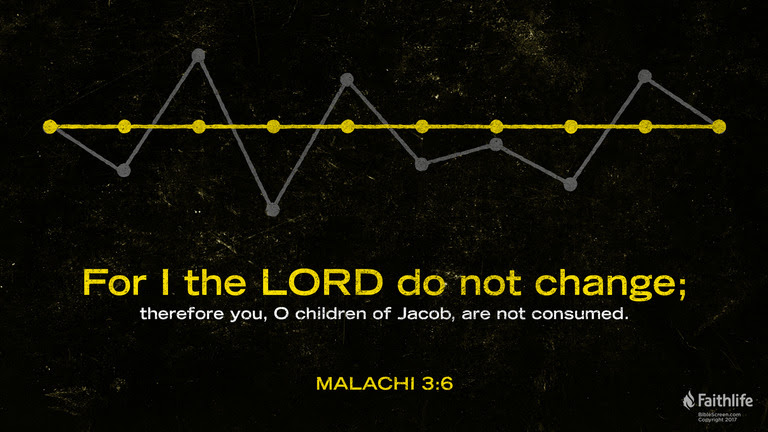 Chapter Context: Malachi is the last of the prophets sent to Israel prior to 400 years of silence. Matthew Henry breaks the chapter down as follows: The coming of Christ. (1-6) The Jews were reproved for their corruptions. (7-12) God's care of his people; The distinction between the righteous and the wicked. (13-18)
Our text for today comes at the end of the first section of chapter three, it closes the promise of the coming savior. With in this verse, there are two key components, the first being God's immutability and the second God's ongoing promise to His chosen.
It is this first component I wish to look at briefly today. God's immutability in simple terms means that God does not change, For I am the Lord, I change not;. He is not indecisive, wavering in His feelings, plans, or thoughts in any manner. He is the same God today that created the Heavens and Earth Genesis 1 and all that lies between them.
Why is this so important? This is where the second component of our text for today comes into importance, God's ongoing promise to His chosen, therefore ye sons of Jacob are not consumed. God chose the nation of Israel through Abraham to be His chosen people and because of Christ gentiles are engrafted into that promise Deuteronomy 7:6–8, 1 Peter 2:9.
Let us stop and think (clearly and without emotions) for a minute reading the Old Covenant did Israel deserve to be consumed (destroyed)? What about modern man and their undeniable immorality? The answers are Yes and Amen!
Yet it is God's immutability, that prevents this wholesale inhalation. Yes God is merciful, Yes God is forgiving, but God is above all IMMUTABLE. If He was not if He was as wishy-washy as every human on the planet why would you worship Him?
---
OTHER RESOURCES

:

Divine Immutability and the Doctrines of Grace – 5 Part series by John MacArthur

The Immutability of God – BY HERMAN BAVINCK

The Immutability of God by A W Pink

The Immutability of God by Thomas Watson

God Unchanging Ligonier Ministries