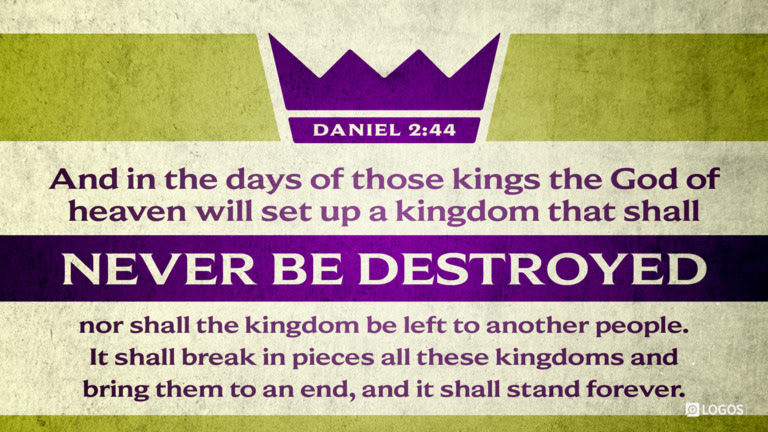 Matthew Henry breaks this Chapter down as follows: Nebuchadnezzar's dream. (1-13) It is revealed to Daniel. (14-23) He obtains admission to the king. (24-30) The dream and the interpretation. (31-45) Honours to Daniel and his friends. (46-49). Some modern bibles have headings that are even more detailed in their division. The AMplified Bible for example has eight (8) divisions our text for today is found in the one containing v.44-45, The Divine Kingdom.
Some days seem so overwhelming and we need a pick me up. I am not referring to the kind found in a bottle or a pill, of course, I and referring to the kind found in scripture.
Yesterday I had the pleasure of listening to Pastor Mark Chanski preach at our church, as he was visiting the area. In his sermon, he spoke of seeing pictures of glory in God's word. I can think of no better picture than today's text.
In the days of the final 10 kingdoms (toes in v.42), Christ will triumphantly set up His final kingdom. Not like the kingdoms before it, this one will not be based upon man's failings and pride.
Indeed Christ's earthly kingdom (Christianity) has been in motion since His birth and continues until this day. Yet His Final Kingdom, the one which happens with His second coming, will be no secret or quiet event, Christ's return will be announced by the archangel and with the [blast of the] trumpet of God…
This Final Kingdom can never be destroyed, Christ's earthly kingdom has already outlived all other earthly kingdoms and will prevail in eternity. Yet we know as Paul wrote to the church in Corinth that Christ must rule over all things.
The final thing I find in this text is the kingdom shall not be left to another people, I find this to have a two-fold meaning. First, in context, it refers to the succession of empires that had plagued the known world. Babylonian to the Medes and Persians; to the Greeks; to the Romans and so forth. Secondly, it means that upon Christ's return His Final Kingdom is reserved for those in Christ.
As Pastor Chanski said paint a picture in your mind, look at the glory of the Second Coming of Christ and the Final Kingdom. Suddenly the care and worries of this world do not seem so troublesome when we have promises like that.
---
Dear Lord,
We pray that all those in Christ will find comfort in your Holy Word. That we will read and study scripture painting pictures in our minds so as to realize the abundance of your Mercy and Grace. We also pray that those who know not Christ will succumb to the urging of the Holy Spirit and repent today that they may be partakers of the Final Kingdom too. AMEN