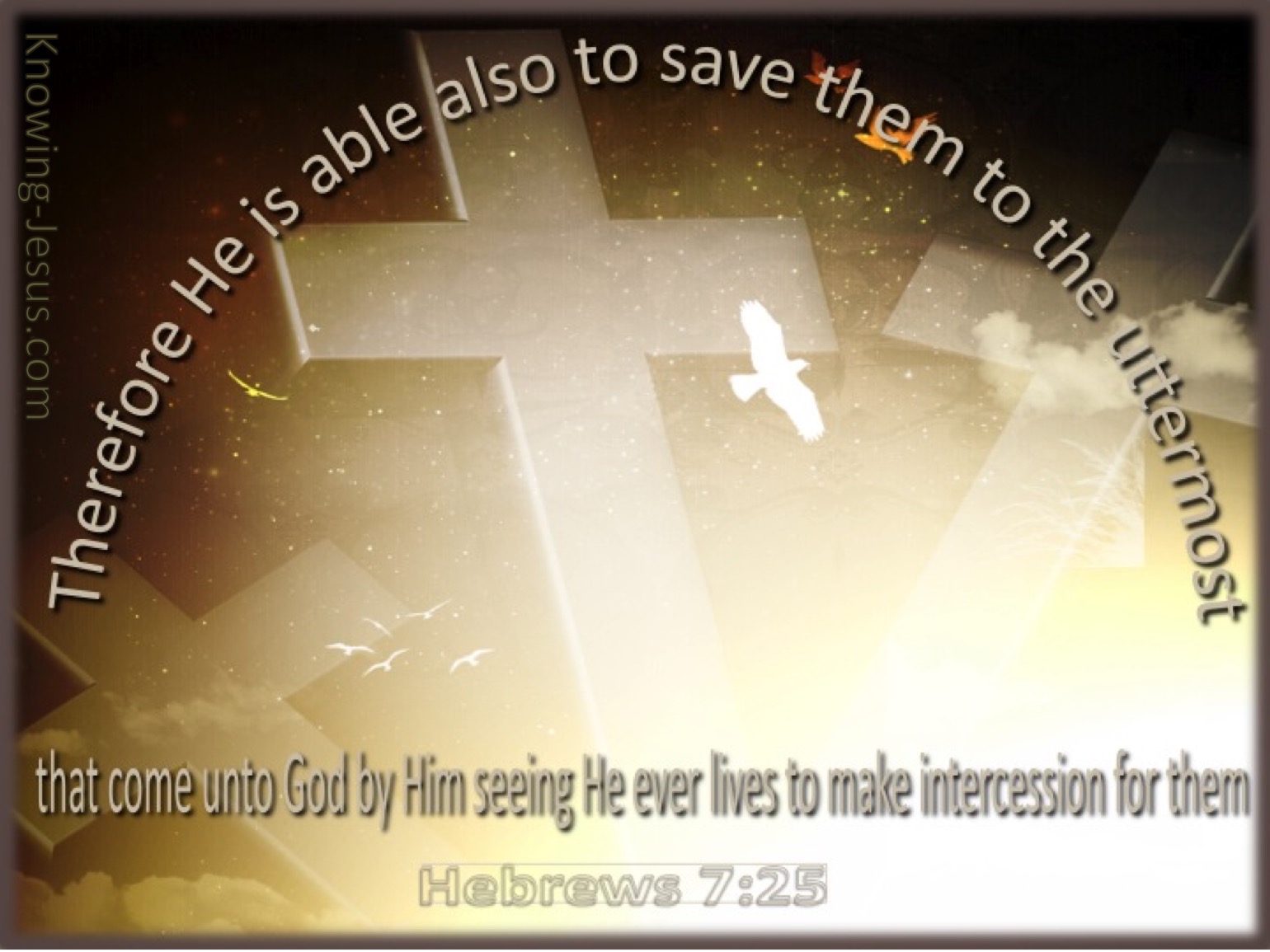 ---
CONTEXT
Different commentaries breakdown this chapter in various ways.. I tend to agree with Matthew Henry's which I interpret as follows: 
v. 1-3  An introduction to Melchizedek, king of Salem and priest of the Most High God

v. 4-10

Melchizedek is greater than Abraham

v. 11-25 The Levitical Priesthood and Christ 

The priests and old law were never perfect

Jesus was from wrong tribe (Judah) to be a priest

God says there is a better priesthood Psalm 110:4

There was a disannulling or cancelling of the old law in order to gain access (through Christ) to God

Jesus oath to God made Him high priest

Because of that oath we are guaranteed a better covenant,  an unchanging priesthood and a means of salvation

v.26-28 Jesus is a better High Priest than any before him
---
BREAKDOWN
Wherefore –  Nine letters with a POWERFUL meaning, have you been paying attention to all I have written previously?  You know my overbearing push for context, context context. Here it is again the writer of Hebrews demands we read in context how the Levitical Law applies to Christ Jesus. 
he is able – Because of everything we have previously read and determined to be true (God can't lie) we understand that Christ alone is able to be this High Priest
also to save them – Man proved incapable of saving himself, that is following the old covenant. Only God Himself the possessor of a supernatural Divine power could intervene and save mankind.
to the uttermost – Note we are not save FROM but saved TO. So often I hear folks say Jesus saved me from…. well ain't that nice 🙂 .  Jesus saved me to the uttermost, that is as Matthew Poole puts it;  to perfection, to the full, to all ends, from sin, in its guilt, stain, and power; from its consequents, the curse, and wrath, and eternal death. 
that come unto God by him, – Another thing I often hear from professing "Christians"  is "I made the decision" and trusted in Jesus… Really now all by your little ol' self.  I know I sound condescending but think about it they are saying they are numero uno, A number one, all about me. They decided and God had no choice in the matter. This is the same sovereign God of the universe, the Omnipotent, Omniscience and Omnipresent IAM, but you make the decisions.
There is only one Biblical way to God and Salvation and that is being called by the Holy Spirit, through Christ Jesus unto repentance and Salvation.  Is it Dogmatic, yes! Is it God's plan yes.
seeing he ever liveth to make intercession for them. – While Jesus was able to live a perfect (sinless) life, even true Christians can not. Thanks be to God, we have a Risen Savior who loves to make intercession for us at the throne of Grace 1 John 2:1-2.  John Gill comments on this: 
he is the one and only Mediator; and he is a very prevalent intercessor, he always succeeds; and he does this work readily, willingly, cheerfully, and freely; and all this proves him to be able to save; for though the impetration of salvation is by his death, the application of it is owing to his interceding life; had he died and not lived again, he could not have saved to the uttermost; his life is the security of his people's, and he lives for them, and as their representative; the blessed, effects of which they constantly enjoy.
---
APPLICATION
If you are reading this and feel your heart strings being tugged upon by the Holy Spirit I pray you will not delay. You do not need some fancy words or formal prayer simply acknowledge that He (Christ) is able, to save a sinner like you, repent of (ask forgiveness) of your past sins against a Holy God, and ask Christ to save you to the uttermost.