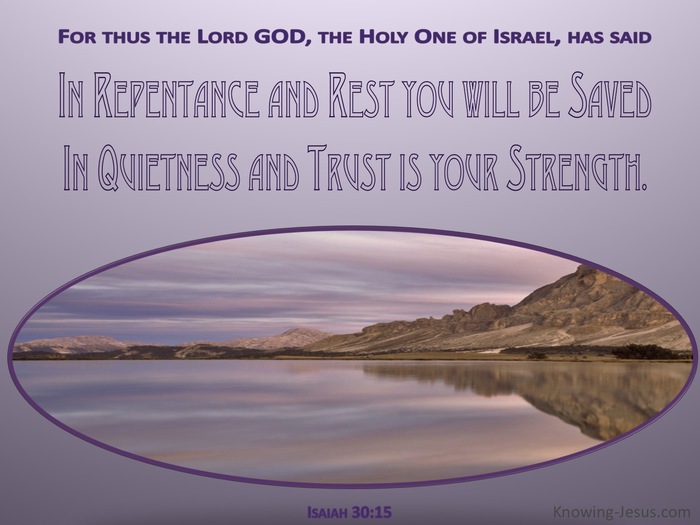 ---
CONTEXT:
Most bibles have a heading for Chapter 30  that reads something like "Warning; danger if y'all head on over to Egypt".  Without trying to sound to offensive (we would of done the same things) when we read about the nation of Israel in the Old Testament they seem rather dumb. I mean how many times does God have to tell them follow me and I will provide?
Yet they like us want to depend upon things of the world, here the power and wealth of Egypt to sustain them, instead of the promises of God.  Of course that comes with consequences v.12-13. How much more so to us today who have God's complete Word before us and are truly without excuse?
---
BREAKDOWN:
For thus saith the Lord God, the Holy One of Israel; –  There can be no doubt who is speaking, Isaiah makes it clear this message is not from His but from God Almighty Himself. 
In returning and rest  – As noted above I think the NASB and others really get the translation right; In repentance,  this is what God demands of a rebellious person or nation. Not mere returning to Him with church attendance and lip service but true repentance.
shall ye be saved; – I want to make clear here this is not talking about eternal salvation as some have thought. One (a lost Lamb of God) cannot return to the fold having lost their salvation only their fellowship. Here specifically God through Isaiah is speaking of the turmoils of life. Rest and salvation, I think of Psalm 62:1-6 knowing God is my "safe place."
in quietness and in confidence shall be your strength: –  When we return to true fellowship with the Triune God; while in quite submission to His will all the cares and concerns of the World that drove us away in the first place seem to quietly disappear.  
and ye would not. – Sadly like the nation of Ancient Israel,  far to many of us know these truths and do them not. 
---
APPLICATION: 
I have yet to meet anyone in my life time that has said to me I prefer chaos and turmoil over peace and tranquility. Yet many live their lives in such a manner that one would think that is exactly what they prefer. 
Like ancient Israel God has put before us a choice of sorts, thought the work of His Holy Spirit¹ men's hearts are touched in a manner that should be undeniable.  Yet that is exactly what man does just like Israel he refuses to listen to the call of the Holy Spirit and continues to live in chaos instead of Repentance and Rest. 
---
¹ See our 14 part series beginning here: Daily Devotional – The Holy Spirit Part I
Thanks once again to LP Jr., for suggesting this Verse.