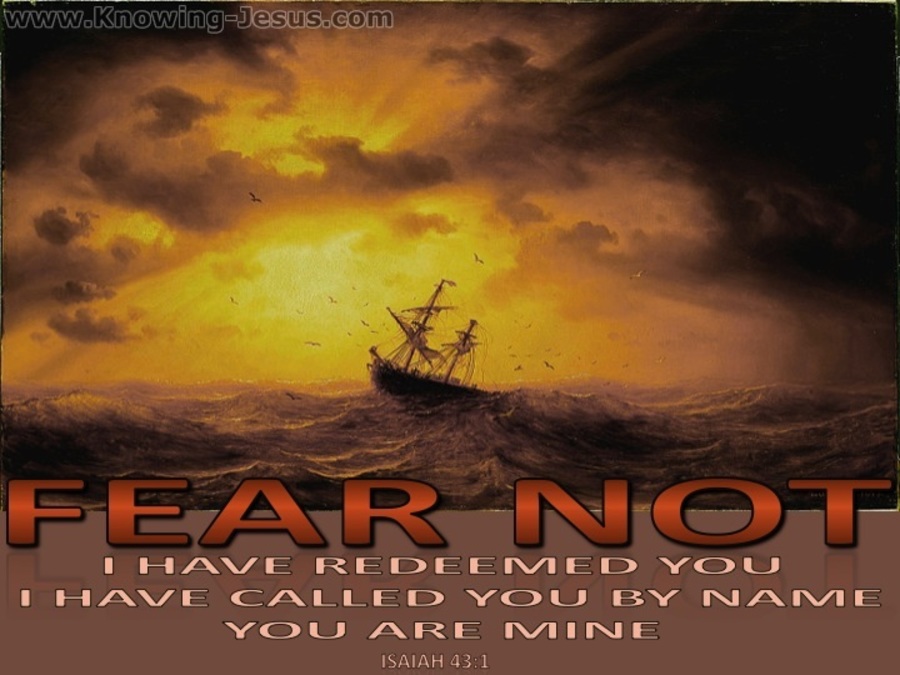 ---
CONTEXT:
Fear strikes everyone, those who deny it are either LIARS or so full of themselves they are just plain to STUPID to recognize the truth. 
Today many in America and around the world are "afraid" of the COVID-19 virus. While there was at the beginning reason for concern, I would argue the Biblically fear should not have been and certainly should not continue trouble the hearts and minds of majority of people. 
The following is from a good friend LP, Jr. it's point is simple we have been force fed FEAR via the media over the past 20 years and the results have always been the same. 
Even with lists like this, I would argue that the following personnel have more to "fear" daily that most Americans do in a lifetime:
Members of the Armed Forces
Law Enforcement 
Fire Fighters
EMT's
Infectious Disease Health Care Workers 
Yet the daily doom and gloom of today's news and the hardships of these occupations is still no reason to let fear control your life. 
Isaiah begins Chapter 43 with one of the Bibles famous, Now this… rendered But now… in the KJV and many others. This signifies that all that proceeded, so let us look back at the end of Chapter 42 for a moment. The God; through Isaiah in short says Israel you have been deaf dumb and blind to all I have done for you. Is there not any among you (a remnant) who hears? Beware the (Fear) wrath of God. 
---
BREAKDOWN:
But now – Forgetting the past, this small phrase which connects us to the previous Chapter also delineates the break in God's wrath and the renewal of His Grace and Mercy 
thus saith the Lord –  So there can be no doubt whom is speaking Isaiah uses a much used and common biblical phrase
that created thee, O Jacob, – God reminds the Jewish peoples that He alone is the Creator King
and he that formed thee, O Israel, – I am convinced (like many others) that this is a reference to Gentiles
Fear not: – What is there to FEAR? God's wrath, for their (Jewish Nations) constant disobedience. True Fear is not whatever harm can come to this temporal body but whatever punishment could befall it in eternity. Matthew 10:27-29
for I have redeemed thee, –  First God gave them the reason, He formed them, now the promise He has redeemed thee (them) from the fear of eternal punishment. No matter the circumstance, (Jerusalem being destroyed, COVID-19, War Zone, Riots) Christ has won the victory and is the antidote for Fear. 
I have called thee by thy name; thou art mine. –  John Gill comments on this as follows: 
I have called thee by thy name; with an effectual calling, which is of particular persons, and those by name, even the same that are redeemed by Christ; for whom he has redeemed by his precious blood, they are called by the grace of God to special blessings of grace, with a high, holy, and heavenly calling; and have no reason to fear anything, since they are the chosen of God; have a right to all spiritual blessings; all things work together for their good; they shall persevere to the end, and at last be brought to glory, to which they are called:
thou art mine; such as are redeemed by Christ, and called by his grace, they are his Father's gift, and his own purchase; they voluntarily give up themselves to him, under the influence of his Spirit and grace; they are his by profession and possession; they are his portion, people, sheep, and spouse; and his interest in them, and theirs in him, serve to prevent fear; such need not fear wanting anything, nor any enemy, nor perishing, or miscarrying of heaven and happiness, to which fears they are subject.
---
APPLICATION:
In the military during the chaos of combat operation there are usually three kinds of responses; 
FEARFUL here we have the person who just can not handle the complete and utter chaos and carnage that happens. Whether its the noise, the swiftness of operations, the shooting something triggers them to shut down. 
RAMBUL You do do not see a lot of these folks, but every once in a while some huckster gets all worked up on their first operation and thinks they are Rambo, the result is not usually healthy.  
HELPFUL This is g the soldier that lets their training kick in, follows orders and gets the job done. Are the scared, yeah, combat is no joke, but they are not going to let their battle buddies down. 
We have a choice, we can let FEAR paralyze us. We can let it play games with our minds and convince ourselves that we have much to fear when the only true fear is our eternal state. Can you identify your fears? If so what is you chief fear? Do you know where you will spend eternity?  Isaiah 41:10 says: 
Do not fear, for I am with you;
do not be afraid, for I am your God.
I will strengthen you; I will help you;
I will hold on to you with my righteous right hand.
What is there to fear when God has us in His palm?  
---
Today's Questions:
Say What?
Observation: What did I read? What struck you as most meaningful?
So What?
Interpretation: What does it mean? Overall and the most meaningful? Did it change your view on FEAR? 
Now What?
Application: How does it apply to me?
Then What?
Implementation: What do I do? How can I start living it out today?