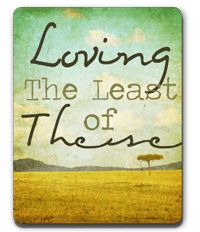 And the King shall answer and say unto them, Verily I say unto you, Inasmuch as ye have done it unto one of the

least of these

my brethren, ye have done it unto me. 

Matthew 25:40 (KJV)
---
CONTEXT: 
This portion of the Gospel of Matthew begins in v.31 and goes to the end of the chapter v.46. In it Jesus is speaking about two themes, the coming judgment of man and man's need to do good unto others. 
Some "religious" groups take the combination to mean we must do good deeds in order to be saved. If that were true Christ died in vain and was an idiot; which I am fully convinced was not the case on either account. 
Another issue revolving around these verses as of late is the renewal of the Social Gospel message.  While there is no doubt that we are to show mercy and compassion to those in need THAT IS NOT THE GOSPEL!
The Gospel is Christ, Him crucified and Raised up for the sins of the elect, 1 Corinthians 15:1–4. Neither is this text to be rightly applied to the masses, that is the public in general. A careful study of the Greek, and Whole Counsel of God, clearly reveals, Jesus is referring to fellow saints (the church). 
There are many applicable text that one could pick for "Mercy Ministries" that is to those outside the church, my favorite would be Galatians 6:7-10. Note even here Paul emphasizes we are to "especially [be a blessing] to those of the household of faith (born-again believers)." 
---
SERMONS:
---
RESOURCES: