---
CONTEXT:
83% of Americans surveyed think folks are inherently or fundamentally good. Maybe they get this belief from quotes like the following: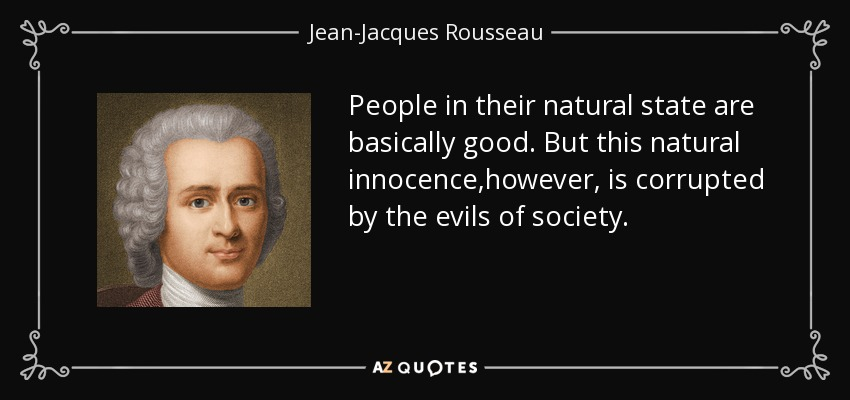 While it is undeniable (Genesis 1:31) that man was originally made "GOOD" and in fact "Perfect" his betrayal of God and subsequent sin nature means his "New Nature" is one of evil conceived from birth (Psalm 51:5 ) and acknowledged by all who know not Christ ( John 3:19 ).
Those who claim or believe man is fundamentally "good" are wrong. One has only to look at the recent news to confirm this. 
---
BREAKDOWN:
9 The heart is deceitful above all things, The human heart is the source of all idolatry and sin
and desperately wicked: It harbors all the deceit needed to do that which is evil (Immoral, Illegal, Unethical)
who can know it? –  Those who pretend to understand the human heart, are only fooling themselves and others. ONLY God can know your true heart's intent we, apart from Christ are blinded by idolatry (Ambition, greed, fame, etc.)
10 I the Lord search the heart,  You can'y hide from God, He knows the heart, true desires of everyone
I try the reins,   He searches the innermost parts the very depths of man looking so that there is no excuse
even to give every man according to his ways,  Folks claim they want fairness and justice, someday when the unrepentant stand before a Holy God they will regret that sentiment 
and according to the fruit of his doings –  For God will judge them righteously according to all they have done, and as we say in the south it will be ugly. 
---
APPLICATION:
The bible makes it clear man is totally corrupt ( 1689 Chapter 6) and deserves eternal punishment in hell. 
The "GOOD NEWS" of the Gospel is we do not have to live in this depraved state (Second Corinthians 5:17). Christ, died for our sins at Calvary and freely offers the gift of eternal life to all who repent and acknowledge His as "Lord and Savior" of their lives. Is the Holy Spirit tugging at your heartstrings? Do you feel the burden of sin weighing you down?  Answer the call to repentance today and be free from a depraved and corrupt heart.