It is not often I use the same bible verse especially within a week (See Tempted) but with all the event happening around us this one seems to be stuck in my mind and popping up everywhere.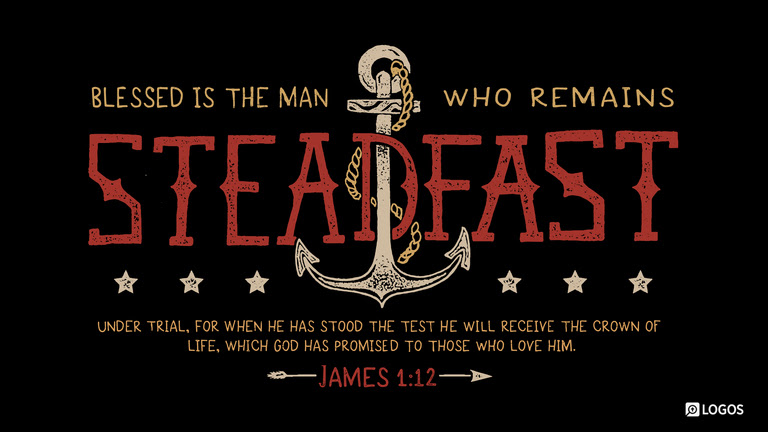 Bienaventurado el varón que soporta la tentación; porque cuando haya resistido la prueba, recibirá la corona de vida, que Dios ha prometido a los que le aman.

Reina-Valera 1960 (RVR1960)
CONTEXT:
Chapter 1 is all about Christians in hard times here are some of the highlights:
v.2 be joyful in
v.3 find patience in
v.4 mature in
v.5 seek wisdom in
v.6 seek increase faith in
v. 6b, 7-8 Handling Wisdom
v. 9-11 Encouragement in hard times
In our text we further see the following:
Blessed is the man: Note this does not say Blessed is the man who finds all temptation easy to beat or is never tempted. Any sane man knows this is impossible. 
Who remains steadfast under trail(s): Instead in a reminder of Jesus' Sermon on the Mount (Matthew 5-7) we have a clear statement Blessed is the man who can endure temptations. I love the instillation above with the anchor running through it. How is it a man can endure trails and temptations? Truly only one way to be anchored in Christ Jesus as Lord and Savior. 
For when he has stood the test: Here is the guarantee, that we will have to endure trails and temptations. It is also the promise that anchored in Christ we can endure them.
He will receive the crown of life: Although there is some disagreement on what The Crown of Life is, I am convinced James is referring to Eternal Life. The argument against seems to be then James is making it conditional on works (endurance and faith). My argument is if folks deny Christ in trials was their faith ever real?
Which God has promised to those who love Him: Why resist temptation because we love Christ for what He has done for us and because He first loved us.  "So that those who endure temptation rightly, endure it because they love God. They say to themselves, 'How can I do this great wickedness, and sin against God?' They cannot fall into sin because it would grieve him who loves them so well, and whom they love with all their hearts." (Spurgeon)