Leave a comment
August 20, 2019 by directorfsm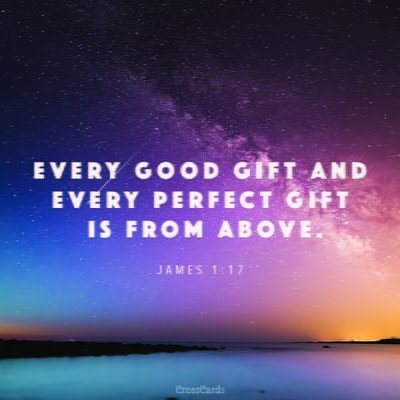 "Every good gift and every perfect gift is from above, coming down from the Father of lights, with whom there is no variation or shadow due to change." (ESV)
Toda buena dádiva y todo don perfecto viene[a] de lo alto, desciende del Padre de las luces, con el cual no hay cambio ni sombra de variación. (LBLA)
We often hear or see the first part of this verse quoted as seen in the clipart above. But as with so many other such chopped up verses I fear all to often it is quoted out of CONTEXT. 
Here James is at the end of his opening discourse on testing of our faith. In verse 12 he says we as believers will be have our faith tested. These tests will not be by God, v.13, but just as in Job we know God is sovereign and in control of even Satan and his ability to tempt us only so far.
In verse 14 and 15 we see that the real problem is not Satan but our own desires; …each person is tempted when he is lured and enticed by his own desire. 15 Then desire when it has conceived gives birth to sin… This is the heart of the matter for in verse 16 James says Do not be deceived, my beloved brothers, is he speaking of deception by Satan or our own desires? I think the later. 
That is why he makes the statement in verse 17, Every good gift and every perfect gift is from above. This is not some generalized promise, it is to remind us of the true gifts of God come not from the recesses of our hearts but from God. Why is it His gifts are good and perfect, because in him there is no variation or shadow due to change, in other words because God is always good and perfect. 
So the next time you are feeling a little down and out make a list of all the good things God has given you and be thankful for all the thinks He has kept you from.