Prayer Series XXVI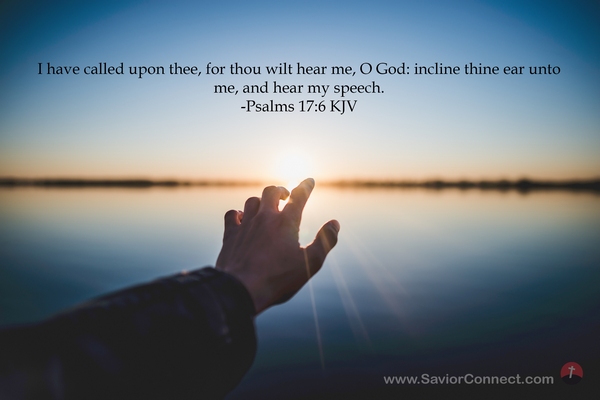 CONTEXT: David is in a time of crisis and instead of relying on friends or himself he turns to the Lord and pleads with Him for protection against those who would oppress him. Matthew Henry breaks it down as follows: I. He appeals to God concerning his integrity (v. 1-4). II. He prays to God still to be upheld in his integrity and preserved from the malice of his enemies (v. 5-8, 13). III. He gives a character of his enemies, using that as a plea with God for his preservation (v. 9-12, 14). IV. He comforts himself with the hopes of his future happiness (v. 15). Some make him, in this, a type of Christ, who was perfectly innocent, and yet was hated and persecuted, but, like David, committed himself and his cause to him that judgeth righteously.
Our text v.6, for today, is a presuppositional statement from David. David says:
I have called upon thee, for thou wilt hear me, O God: I am going to call on you because you have always heard me. It is a given I have no doubts, it is predetermined you will hear me now.
incline thine ear unto me, and hear my speech: and to be sure you hear me incline your ear or as the NLT renders it Bend down and listen as I pray. Imagine telling God, to come a little closer I do not want you to miss anything.
C.H. Spurgeon in his Treasury of David says of this: Incline thine ear unto me, and hear my speech. Stoop out of heaven and put thine ear to my mouth; give me thine ear all to myself, as men do when they lean over to catch every word from their friend. The Psalmist here comes back to his first prayer, and thus sets us an example of pressing our suit again and again, until we have a full assurance that we have succeeded.
That is the beauty of, or at least should be the beauty of our relationship with God, inclining an ear to a friend. Is that the way you see God today?