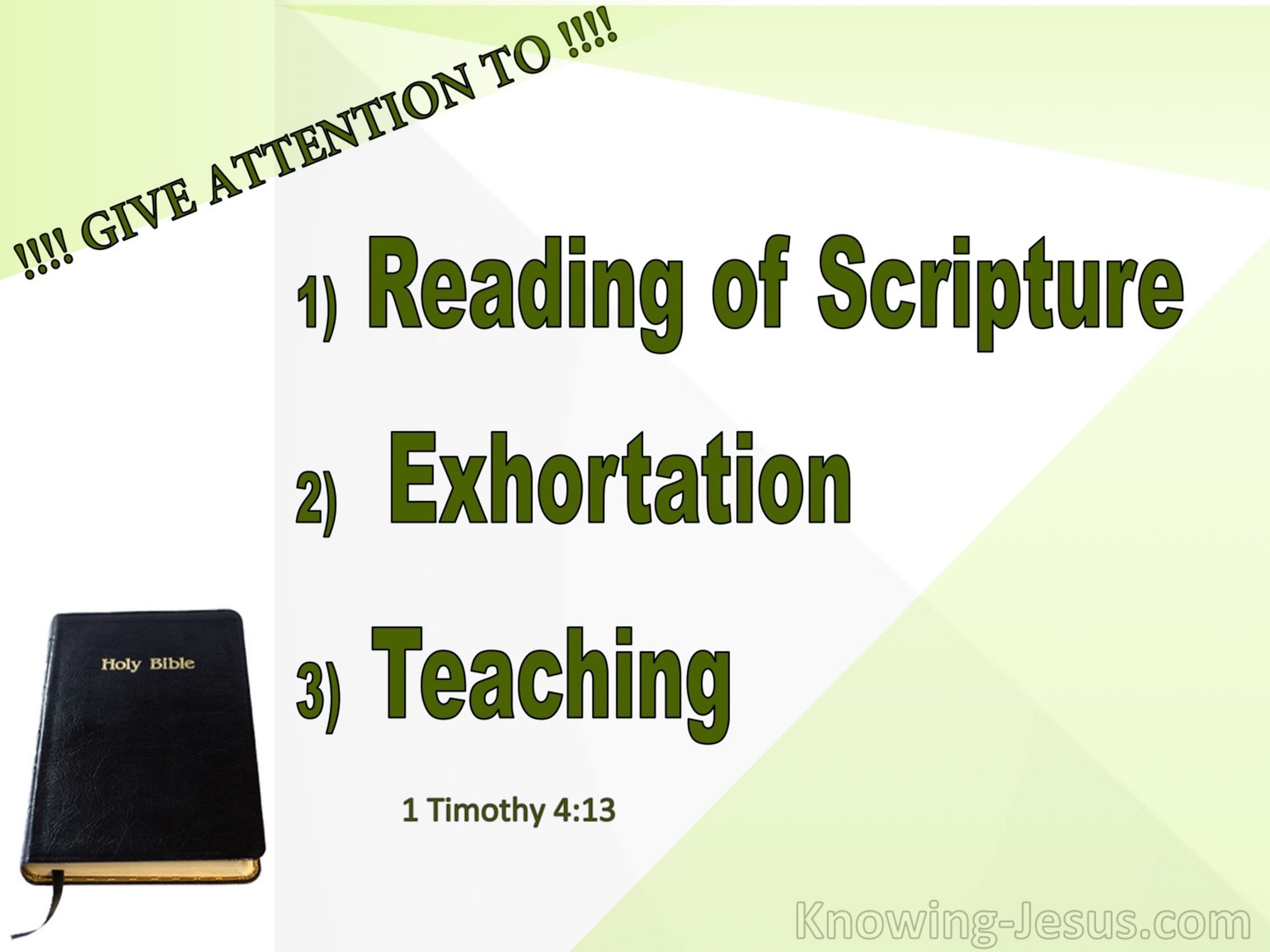 CONTEXT: This chapter can be divided into three sections (v.1-5) deals with apostasy teachings entering into the church at Ephesus, (v.6-10) Paul's instruction to Timothy on dealing with these false teachers (v.11-16) Paul's encouragement to Timothy to persevere in the ministry.
Our main text is the key (my opinion) verse in the later section of this chapter. Paul instructs and encourages Timothy in his personal conduct of the ministry, v.11-16. Here he says the best way to ensure you do not mess up is to ALWAYS devote himself to three areas:
The Reading of Scripture Daily
The Exhorting of Others, that is preaching of the Word
The teaching of the Word of God
It is this first area I wish to expound upon today. The vast majority of commentaries and all modern translations I read on this verse suggest that this means the Public Reading of Scripture as in church services. I believe the commentarors and translations render it so because the Greek word here, Anagnosis, an-ag'-no-sis, in the only other two uses refers to Old Testement readings.
I on the other hand agree with John Gill that Paul is encouraging Timothy to study scripture (read) in private that he might be more proficient in his exhortation and teaching:
And this is to be understood, not of the reading of the Scriptures in public, for the advantage of others, a custom which obtained in the Jewish synagogues; see ( Acts 13:15 ) ( 15:21 ) but in private, for his own use and service, that he might be more perfect, and more thoroughly furnished to the work and office to which he was called; for the Scriptures are the fund of spiritual knowledge, as well as the test and standard of doctrine, out of which all must be fetched, and by which it must be tried; and if Timothy, who had known the Scriptures from a child, had been trained up in them, and was always conversant with them, had need to give diligent attention to the reading of them, then much more others: as also to exhortation, to doctrine; as he was privately to read the Scriptures, for his own benefit, he was publicly to expound them, or preach from them, to the advantage of others; for these two, exhortation and doctrine, are branches of the ministerial work, which reading furnishes and qualifies for.
Reading of the Word of God is for everyone, and not just the Bible (especially many loose modern translations) for it can be easily misread and misapplied. It is important to have other reliable resources and utilize them as well.
What are you reading today?