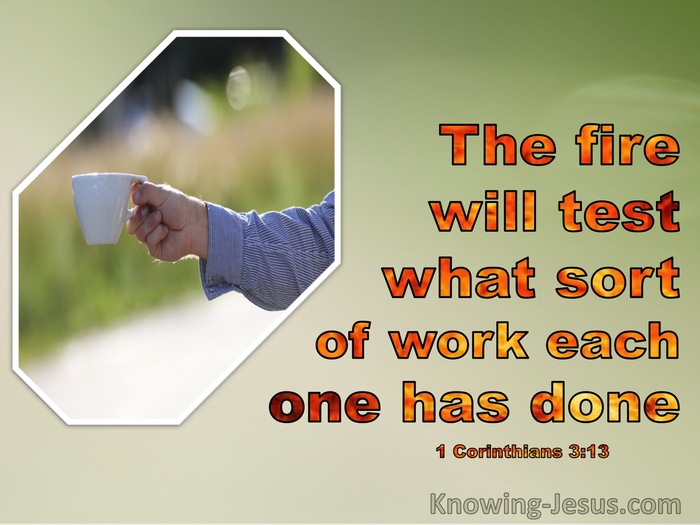 ---
CONTEXT:
Pretty much since I can remember I have had a hammer in my hand so relating to 1 Corinthians 3 Foundations for Living, was right up my alley as they say. 
Paul says v.10 he has skillfully laid the foundation upon which others can build. He is of course referring to the Gospel and his initial visits to the area sharing the Good News and planting churches which others have continued.
In v.11 he makes clear the ONLY foundation he laid and the ONLY one worth laying by anyone is that of Christ Jesus and Him crucified.
Then Paul makes a true builders comment in v.12 when he asks what are you building your foundations with? Are you using quality building materials or junk? 
---
BREAKDOWN: (KJV)
Every man's work shall be made manifest: – It will become apparent to everyone, (even those you are currently fooling) what you have build you foundation (your beliefs, doctrine, theology) on. 
for the day shall declare it, – What day? Many hold this to be the "Great Day of Judgement" while others (myself included) believe it to be a day (Gill, Calvin) when just the doctrines and false teachings will be exposed. Whichever you ascribe to the message is clear you can not hide on that day.
because it shall be revealed by fire; – All your foundational work will be revealed. Your "Good News" (or lack thereof for pew only Christians) message will stand the test put forth by God. 
and the fire shall try every man's work of what sort it is.-  Paul has spoken of doctrine and personal evangelism figuratively and continues here by using the example of trying by fire. We know that a foundation made of wood, straw or JUNK will not stand up to fire. Neither will a doctrine and personal evangelism based not on the genuine, uncompromised Word of God. The fire of the Holy Spirit will try a person's soul and show the world the truth of their message.
---
APPLICATION:
What we say, what we share, the "Good News" of Christ should be obviously important to all. Our message (beliefs, doctrine, theology) must be based solely upon the uncompromising, unadulterated, Holy Word of God.
The message is simple, God will judge everyone not on works to get into heaven, for we know that is impossible. But he will judge us on what we do (or do not do) after our heavenly home is secure 2 Corinthians 5:10.
What is your foundation looking like today?