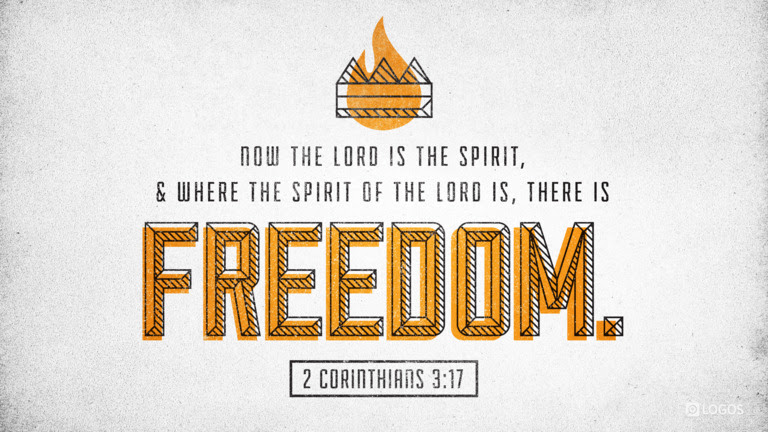 ---
CONTEXT:
Everyone wants freedom or liberty from something. Maybe it is an oppressive boss at work, a parent who is to controlling, for some it is simply the right to attend and worship God freely. 
Today, July 4th 2020, we celebrate the 244th founding of America and the signing of the The Declaration of Independence the greatest document ever created by man honoring freedom. 
Yet as great as this document is, man is not nearly as good (never mind great) and has continually over the past half century plus, systematically made efforts to erode it's original intent and impact on freedom and liberty. I know many veterans feel as I that this is an affront to the oath we swore upon our enlistment. 
That is why mankind needs true Freedom and Liberty found only in Christ Jesus, for we can not depend on any other.  
---
BREAKDOWN:
Now the Lord is that Spirit: –  Paul is referring to the Holy Spirit of course whom Christ Jesus promised to all believers, John 14:15-17, and who indwells all true believers, 1 Corinthians 3:16.  He is also reminding us of the triune God, Father Son and Holy Spirit. Whenever we see Lord, written in text we know it is referring to Christ and in saying that Spirit, Paul leaves no doubt about the Holy Spirit. 
and where the Spirit of the Lord is, –  In v.16, Paul has made it clear the only path to escaping the bondage, slavery of sin is through Christ Jesus. 
there is liberty. – So if you want True Freedom and Liberty, Galatians 5:1-13, from all the world has to offer the only place you can find it is in Christ and His indwelling Holy Spirit. No document created by man, however grand and well meaning will stand in comparison.
In fact no document will last, apart from the blessing of God being upon it. If the last 6 decades are any indication we in the U.S. to no longer seem to care if America! America! God shed His Grace on thee."
---
APPLICATION: 
I encourage everyone reading this to accept the free gift of True Freedom and Liberty offered in the Gospel message, 1 Corinthians 15:1-4, which is a call to repent and worship Christ as Lord and Savior of your life. 
---
Other Resources: 
The Precepts and Liberty Arthur Pink December, 1946