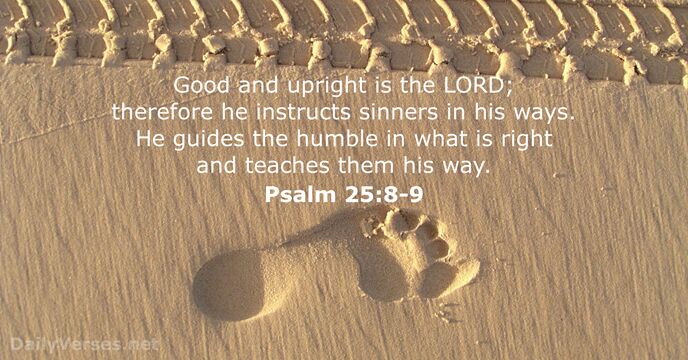 Bueno y recto es el SEÑOR;




por eso él enseñará a los pecadores




el camino.

9 Encaminará a los humildes


en la justicia

y enseñará a los humildes su camino. (RVA 2015)
Good and upright is the Lord; David (as we) adds a little reassurance into his prayer, a remembrance that the Lord is righteous in all things.
therefore he instructs sinners in the way; it is solely because of God's righteousness, (His Grace and Mercy) not anything of our own merit that the Lord instructs, or teaches repentance to sinners. 
He leads the humble in what is right; for some of us this is a hard pill to swallow. I am not inferring that I, or we go around all braggadocious like, what I am saying sometimes we have a tendency to think "I got this" when the Lord wants us to Surrender All in everything. The (KJV) says "He will guide the week in judgement" I like that because I am week in judgement when I fail to humble myself before the Lord daily. Matthew Poole's commentary says the Humble and Meek are those: such as meekly submit themselves to God's hand and word, and are willing and desirous to be directed and governed by him.
and teaches the humble his way; if you call yourself a child of God and do not strive to learn more about God everyday, I think maybe your relationship is flawed. There is only one way for a "Christian" to live, God's way, the way He has prescribed in His inerrant, sufficient written Word.  
---
Verse 8. Good and upright is the Lord: therefore will he teach sinners in the way. Here the goodness and rectitude of the divine character are beheld in friendly union; he who would see them thus united in bonds of perfect amity must stand at the foot of the cross and view them blended in the sacrifice of the Lord Jesus. It is no less true than wonderful that through the atonement the justice of God pleads as strongly as his grace for the salvation of the sinners whom Jesus died to save. Moreover, as a good man naturally endeavours to make others like himself, so will the Lord our God in his compassion bring sinners into the way of holiness and conform them to his own image; thus the goodness of our God leads us to expect the reclaiming of sinful men. We may not conclude from God's goodness that he will save those sinners who continue to wander in their own ways, but we may be assured that he will renew transgressors' hearts and guide them into the way of holiness. Let those who desire to be delivered from sin take comfort from this. God himself will condescend to be the teacher of sinners. What a ragged school is this for God to teach in! God's teaching is practical; he teaches sinners not only the doctrine but the way.
Verse 9. The meek will he guide in judgment. Meek spirits are in high favour with the Father of the meek and lowly Jesus, for he sees in them the image of his only begotten Son. They know their need of guidance, and are willing to submit their own understandings to the divine will, and therefore the Lord condescends to be their guide. Humble spirits are in this verse endowed with a rich inheritance; let them be of good cheer. Trouble puts gentle spirits to their wit's ends, and drives them to act without discretion, but grace comes to the rescue, enlightens their minds to follow that which is just, and helps them to discern the way in which the Lord would have them to go. Proud of their own wisdom fools will not learn, and therefore miss their road to heaven, but lowly hearts sit at Jesu's feet, and find the gate of glory, for the meek will he teach his way. Blessed teacher! Favoured scholar! Divine lesson! My soul, be thou familiar with the whole.