Leave a comment
August 18, 2019 by directorfsm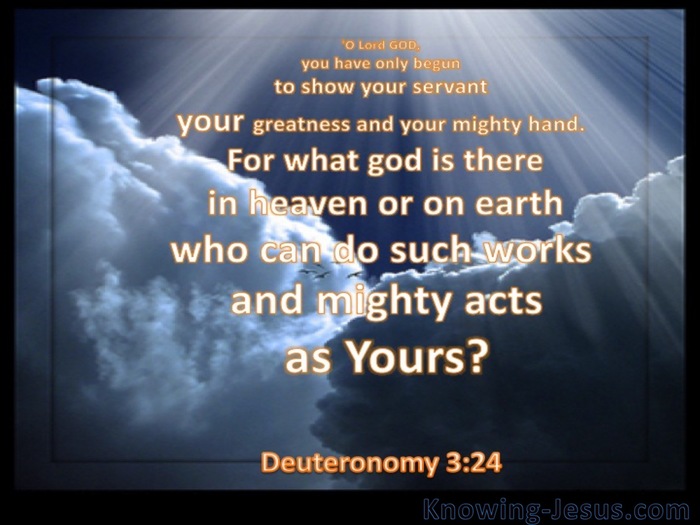 "Oh Señor Dios[a], tú has comenzado a mostrar a tu siervo tu grandeza y tu mano poderosa; porque ¿qué dios hay en los cielos o en la tierra que pueda hacer obras y hechos tan poderosos como los tuyos? (LBLA)
One of my devotionals each morning, Daily Light on a the Daily Path by Samuel Bagster comes as a list of Bible verses (morning and evening, I split them making it last 2 years) with references at the bottom.  It is from here or one of the others I read that I usually decide what to post for the day's devotional here on our site. I thought I would just share the whole devotion today.  
Who in the heaven can be compared unto the LORD? who among the sons of the mighty can be likened unto the LORD? O LORD God of hosts, who is a strong LORD like unto thee? or to thy faithfulness round about thee? – Psalm 89:6,8
Among the gods there is none like unto thee, O Lord; neither are there any works like unto thy works. – Psalm 86:8
For thy word's sake, and according to thine own heart hast thou done all these great things, to make thy servant know them. Wherefore thou art great, O LORD God: for there is none like thee, neither is there any God beside thee, according to all that we have heard with our ears. – II Sam. 7:21-22
Eye hath not seen, nor ear heard, neither have entered into the heart of man, the things which God hath prepared for them that love him. But God hath revealed them unto us by his Spirit. – I Corinthians 2:9-10
The secret things belong unto the LORD our God: but those thing which are revealed belong unto us and to our children. – Deut. 29:29
To these one could add: (all from Amplified Bible)
None at all is like You, O Lord; You are great, and Your name is great in might. –Jeremiah 10:6
Who would not fear You, O King of the nations? For it is fitting to You and Your due! For among all the wise [men or gods] of the nations and in all their kingdoms, there is none like You. – Jeremiah 10:7
O Lord, there is none like You, nor is there any God beside You, according to all that our ears have heard. – 1 Chronicles 17:20
[Earnestly] remember the former things, [which I did] of old; for I am God, and there is no one else; I am God, and there is none like Me, – Isaiah 46:9
And he said, O Lord, the God of Israel, there is no God like You in heaven above or on earth beneath, keeping covenant and showing mercy and loving-kindness to Your servants who walk before You with all their heart. – 1 Kings 8:23
Can you come up with others?