Check out the other resources at the end.
---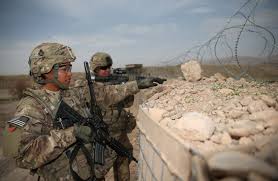 Nehemiah 4:9
---
CONTEXT:
For a complete background on the book of Nehemiah, see this link to the first in a series I preached a number of years ago.
A brief overview is needed to set the scene, Nehemiah is a Jewish cupbearer in the court of Artaxerxes the king. He recently hears of the devastation (complete state of disrepair) of Jerusalem his homeland and becomes very sad.
The king notices he is out of sorts and inquires why, Nehemiah tells him of the state of Jerusalem (which Artaxerxes rules) and the king does something miraculous. He sent Nehemiah to rebuild Jerusalem.
Chapter 4  tells how the Jews are  made fun of, ridiculed and hindered at every turn by their enemies (basically everyone in the city in or with power) 
---
BREAKDOWN:
Nevertheless – This is a pretty bold and in your face type statement. Regardless of who you are, regardless of what you attempt. In others words we DO NOT CARE!
we made our prayer unto our God, – Why don't we care about your evil efforts, because we have prayed God will intervene.  We have prayed Be on Guard for a power that far exceeds anything you can even conceived to intercede on our behalf. We will not stoop to your level and make fun of, ridicule or get physical. 
and set a watch against them day and night, – We will however be ever vigilant, we will set a watch and be ready to defend what is right. 
because of them. – Though we pray for God's divine intervention we will not neglect the means He has given us to defend ourselves and those incapable of defending themselves. 
---
APPLICATION:
Nehemiah understood who his true enemies were. He also understood his duty was to defend the mission assigned to him by God and king. Nothing has changed for the Christian or Soldier in nearly 2500 years since the Book of Nehemiah was written. 
We have a duty to ignore insults and only worry about serious threats. We need to be in prayer and continually ask God for guidance and divine intervention against our enemies. We need to be prepared to stand Guard and defend and protect that which God has provided for us.
A reminder: 
I, (NAME), do solemnly swear (or affirm) that I will support and defend the Constitution of the United States against all enemies, foreign and domestic; that I will bear true faith and allegiance to the same; and that I will obey the orders of the President of the United States and the orders of the officers appointed over me, according to regulations and the Uniform Code of Military Justice. So help me God.
I encourage everyone to PRAY FOR AMERICA, BE ON GUARD and PREPARED TO support and defend the Constitution of the United States against all enemies, foreign and domestic!
---
Today's Questions:
Say What?
Observation: What did I read? What struck you as most meaningful?
So What?
Interpretation: What does it mean? Overall and the most meaningful? Did it change your view on Prayer and being on Guard?    
Now What?
Application: How does it apply to me?
Then What?
Implementation: What do I do? How can I start living it out today?
---
We invite you to join us on Saturday, August 15 for FRC's Stand Courageous Men's Conference Live Stream event that will bring men together across the country to see and hear from God in this unprecedented time. The men across this nation need a fresh, God-inspired message to rise up: renewed to be men who lead and serve by following Christ's example.
Stand Courageous Men's Conference: Live Stream event
Live from Household of Faith | Gonzales, LA
Saturday, August 15, 2020
9:00am — 5:30pm ET | 8:00am — 4:30pm CT | 7:00am — 3:30pm MT
Live Stream for West Coast 9:00am — 5:30pm PT
Led by retired Lieutenant General Jerry Boykin, founding member and commander of the U.S. Army's Delta Force and FRC President Tony Perkins — men who have a calling from God to help men develop character, build relationships, and make commitments that will move them closer to God's good purpose and design.
Other confirmed speakers include Bishop Larry Jackson, Pastors Mark Stermer, Scott Bledsoe, Darryl Smith and Philip Pimlott — all who have demonstrated uncommon courage under fire. This event is a full day covering key areas for men: Man as a Provider, Instructor, Defender, Battle Buddy, and Chaplain.
The Stand Courageous ministry will also provide practical videos and resources to equip us as men to lead and dig deeper into biblical manhood. This is the time we need to bless and challenge men. Together, we can unite and Stand Courageous.
For all the details on this event, go to www.standcourageous.com/LIVE
To register for the Live Stream event, click here.
---
Steps for Getting a Better Night's Sleep
Many Veterans may have trouble sleeping, whether it's due to nightmares, a racing mind, or an old military routine.
But there are steps you can take to create a healthier sleep routine.