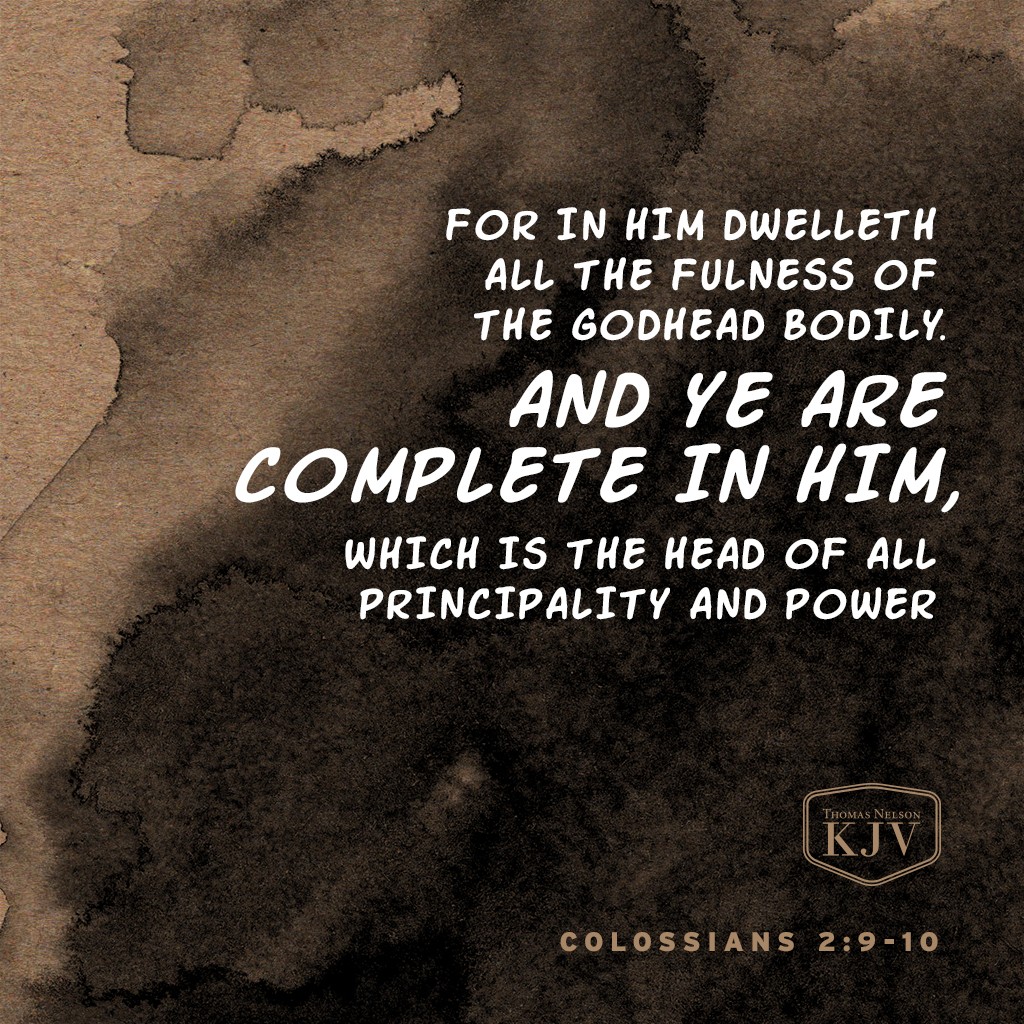 CONTEXT: Colossians in whole is about Christ's preeminence and sovereignty. In chapter 1 Paul describes Christ's rule supreme in all creation. Chapter 2 begins with Paul arguing that Christ is also supreme in Salvation compared to any false religion. Matthew Henry breaks down the Chapter as follows: I. The apostle expresses concern for the Colossians (v. 1-3). II. He repeats it again (v. 5). III. He cautions them against false teachers among the Jews (v. 4, 6, 7), and against the Gentile philosophy (v. 8-12). IV. He represents the privileges of Christians (v. 13-15). And, V. Concludes with a caution against the judaizing teachers, and those who would introduce the worship of angels (v. 16-23).
A quick search of Strong's concordance shows that the word Godhead is used only three times in the Bible. In each case it refers to the Deity (which modern translations use ILO Godhead) of the triune God. The NIV, for example reads: For in Christ all the fullness of the Deity lives in bodily form. The issue I have with this is it detracts from the context of the Trinity. If you must use a modern translation the (AMP) of course is my go to, also the CSB; For the entire fullness of God's nature dwells bodily in Christ, or the ESV; for in him dwelleth all the fulness of the Godhead bodily, are in my opinion much better choices.
In modern society today relativism rules or does it? One can read the multitude of post on this site that refer to CRT, Wokeism and such that are products of the belief that there is no longer a standard by which we should live. That is until you cross what they (leftist agenda) deem as the norm. So in reality relativism is only applied one way.
What society needs is an awakening to the Judeo-Christian principles that this nation was founded upon. We need a set of Moral Standards that emanate from the life of Christ and the Bible. That awakening can only come about if "Christians" pay honor to the Godhead that is due.
---

Give Honor to the Triune God – Father, Son, and Holy Spirit
We must give honor to the three persons in the Godhead distinctly, to the Father, the Son, and the Holy Spirit, that great and sacred Name into which we were baptized and in which we assemble for religious worship, in communion with the universal church…
We pay our homage to three that testify in heaven: the Father, the Word, and the Holy Spirit; for these three are one. 1 John 5:7(KJV)
We adore you, O Father, Lord of heaven and earth, Matthew 11:25(ESV) and the eternal Word, who was in the beginning with God and was God, through him all things were made, and without him was not any thing made that was made; John 1:1-3(ESV) and who in the fullness of time, Galatians 4:4(ESV) became flesh and dwelt among us and showed his glory, glory as of the only Son from the Father, full of grace and truth. John 1:14(ESV)
And since it is the will of God that all men should honor the Son, just as they honor the Father, John 5:23(ESV) we adore him as the radiance of his Father's glory and the exact imprint of his nature; herein joining with the angels of God, who were all bidden to worship him. Hebrews 1:3-6(ESV)
We pay homage to the exalted Redeemer, who is the faithful witness, the firstborn of the dead, and the ruler of the kings of the earth, Revelation 1:5(ESV) confessing that Jesus Christ is Lord, to the glory of God the Father. Philippians 2:11(ESV)
We also worship the Holy Spirit, the Helper, whom the Son has sent from the Father, even the Spirit of truth, who proceeds from the Father, John 15:26(ESV) and who is sent to teach us all things and to bring all things to our remembrance; John 14:26(ESV) who indited the Scriptures, holy men of God writing them as they were carried along by the Holy Spirit. 2 Peter 1:21(ESV)
---