Whither Philanthropy? Young People Learn Giving in Church and the Church Is Weakening, empty tomb Book Finds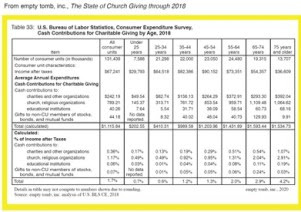 CHAMPAIGN, Ill., May 11, 2021 /Christian Newswire/ — Young people learn philanthropy in religious settings, finds an analysis in the new empty tomb book, The State of Church Giving through 2018.
The new book also finds downward trends in church membership and giving in the U.S.
That poses the question: If young people learn to practice philanthropy in church, and churches are in downward trends, will philanthropy continue to thrive in the U.S.?
SOURCE: Whither Philanthropy? Young People Learn Giving in Church and the Church Is Weakening, empty tomb Book Finds