There has been an abundance of stuff on the internet (and since it is there its all true 🙂  of course) regarding COVID-19 being God's judgement on the earth. First off no one has anyway of knowing that to be factual. Could it be God's judgement sure, do we, mankind as a whole deserve it, for certain. Does that mean God purposely brought this upon us; NO. As I noted in an early post the true cause (or blame if you insist) is man-made and man's depravity (sinfulness) alone. 
I got this today in my inbox and was reminded of a few years back when I was Chaplain at the county jail and preached through Nehemiah. I love that book, it is about restoration and was (is) very appropriate for the setting but also for the world in general.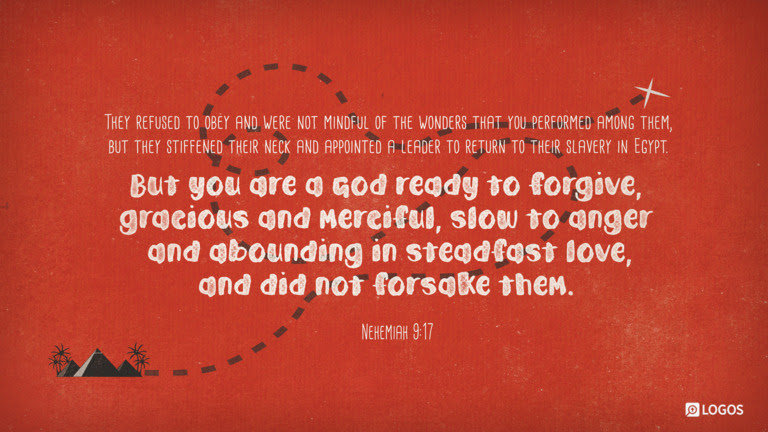 No quisieron oír, ni se acordaron de tus maravillas que habías hecho con ellos; antes endurecieron su cerviz, y en su rebelión pensaron poner caudillo para volverse a su servidumbre. Pero tú eres Dios que perdonas, clemente y piadoso, tardo para la ira, y grande en misericordia, porque no los abandonaste. (RVR 1960)
CONTEXT:
In Chapter 8 Ezra has read the Law from the Holy Scripture this causes those assembled to realize their sinfulness and confess it before God. 
As part of that prayer we find the words above: 
MAN'S CONDITION 
They refused to obey Reference their forefathers who had fled Egypt, and now sinned against God's Law
were not mindful of the wonders that you performed among them, They ignored all God had done for them, in this case Manna, Guidance, Red Sea, etc. Today it is the little things we attribute to luck and such.
they stiffened their neck and appointed a leader to return to their slavery in Egypt. Instead of obeying God when they knew better they preferred the slavery of Egypt. Today man prefers his sinfulness over the light. Romans 1:18-22, John 3:17-20
GOD'S ATTRIBUTES
you are a God ready to forgive, Ezra confirms a truth seen throughout the bible, God is ready to forgive those who repent of their sinful ways.
gracious and merciful, slow to anger and abounding in steadfast love, God's character is such that He cannot help but be gracious and merciful to His chosen people all the more so if they will turn from their evil, sinful ways. 
and did not forsake them one thing we know for certain God will never leave or forsake His chosen people. He may discipline them, He may cast them to the winds, but He will never forsake them. 
Maybe it is time we as a community of believers turn and repent and start following God without any of man's doctrines thrown in.