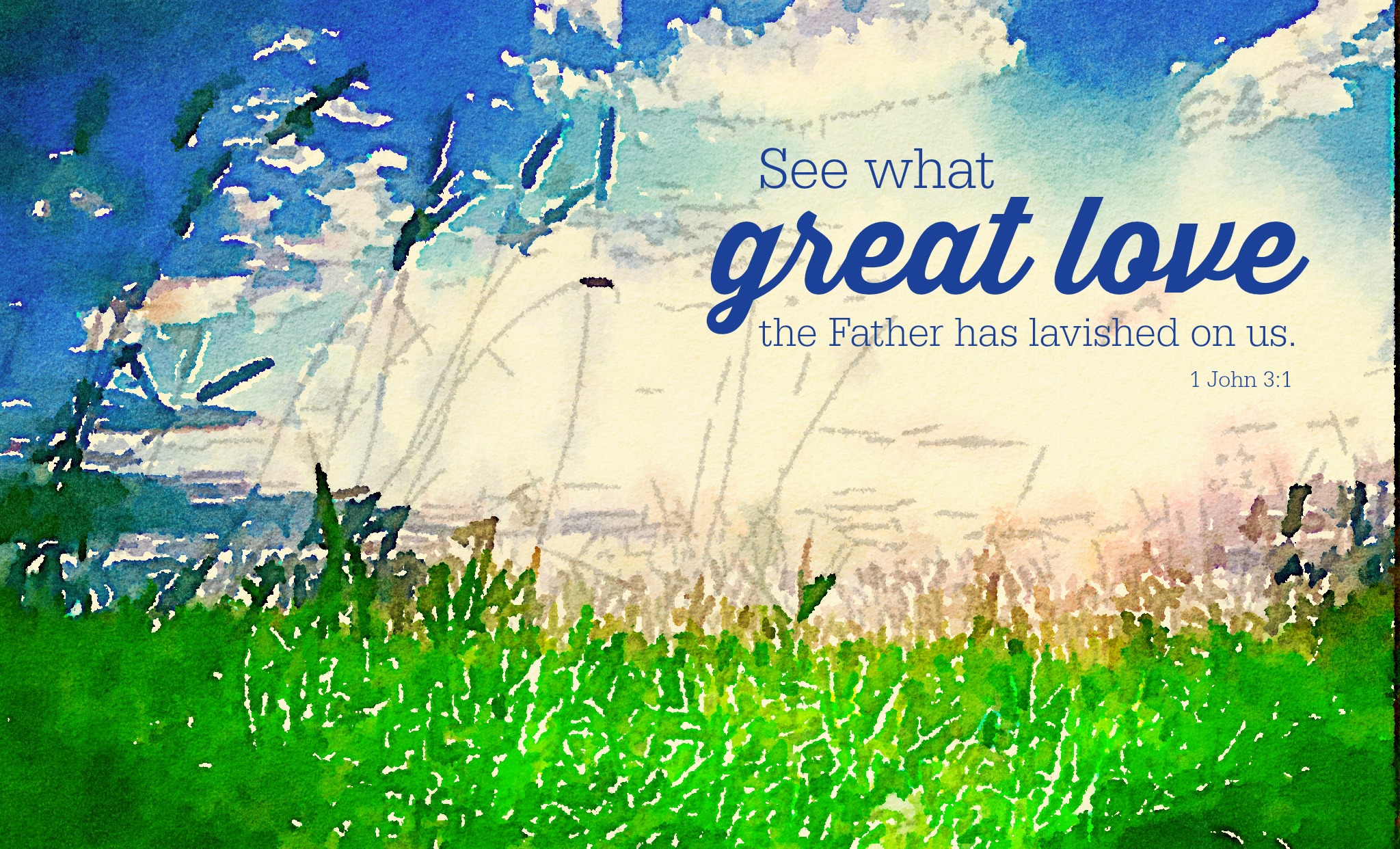 Behold, what manner of love the Father hath bestowed upon us, that we should be called the sons of God: therefore the world knoweth us not, because it knew him not.

(KJV)
Mirad cuál amor nos ha dado el Padre, para que seamos llamados hijos de Dios; por esto el mundo no nos conoce, porque no le conoció a él.

(RVR 1960)
John starts chapter three of his first epistle with quite a declaration Behold, what manner of love the Father hath bestowed upon us! In order to understand why we need to back up to chapter two and get some context. 
Chapter 2:18-27 is a warning about Antichrists, that is he who denies the Father and the Son. John ends the chapter with verses 28-29 that begin his discourse on Children of God: 
 And now, little children, abide in him, so that when he appears we may have confidence and not shrink from him in shame at his coming. 29 If you know that he is righteous, you may be sure that everyone who practices righteousness has been born of him.
So let us break down our text this morning:
Behold, what manner of love: John is advertising the love of God when he uses the word Behold here. Webster's 1828 dictionary defines it as: 1. To fix the eyes upon; to see with attention; to observe with care. Behold the lamb of God which taketh away the sin of the world. John 1:29. We are to Pay attention and observe with care God's love that surpasses what manner any and all expectations. 
the Father hath bestowed: what manner of love God, the Father, has given us. But "given us" just does not do justice to the sense of the words here. Mainly because it is not a "gift" we have been given but true love of the father hath bestowed again Webster's: BESTOWED, participle present tense Given gratuitously; conferred; laid out; applied; deposited for safe-keeping. 
upon us: Note the word gratuitously; in the definition of Bestowed above. It means without good reason; unjustifiably. Why is it God confers His love upon us what have we done to deserve such love mercy and grace. The answer of course is nothing. We are all sinners (Romans 3:23) and deserve God's righteous judgement of eternal hell (Romans 6:23). 
that we should be called: that the effect is immediate upon God's bestowment; we should be called, it is nearly unimaginable that one would received the adopted birthright of such a marvelous name. Especially when we consider Who is doing the initial calling of that name, the Lord God of all Creation.
the sons of God: John chooses to use this phrase the sons of God, whereas in most of the Pauline letters we would find the phrase Children of God. The important take away is that God personally calls His elect, His chosen children with His enduring Love. Think on this for a moment, in a righteous nurturing family environment the parent child relationship knows no greater love. 
therefore the world: John is referring to everyone and everything outside the Church of Christ and the Kingdom of God
knoweth us not, Again we have to understand John meaning. The world will certainly know of you, criticize you, hate you, etc. Yet it will not understand you or God's love for you. Here is an example of what I mean:
A friend recently posted this on FB an got some interesting responses: 
A response: Is hell full of people he knew before they were formed in their mothers womb? Did God who knows all past, present and future create these people who he knew were going to spend eternity in hell. What kind of God created people that he knows are going to suffer forever in hell no matter what they do. It's not the kind of God I want to know and I certainly don't want to sing or praise him for creating people who he knew would suffer. Come on, something dosent add up.
My Two Cents: Man, all mankind deserves hell! We are born with a sinful (evil) nature that is completely incapable of doing good (righteousness) apart from God in our lives. Those who try and reason God's "goodness" know nothing of His righteousness judgment mercy and love.
because it knew him not. Why will the world not know you? Because it both refuses to know (seek the truth of) and does not know the Father nor the Son, it is incapable of knowing the sons of God. 
In closing I am often asked how can we know if someone is truly saved. I understand there are some really good con artist out there but the bible makes it clear we will know folks be the fruit of the Spirit. John closes his discourse in chapter 3 on Children of God with this verses 9-10: 
No one born of God makes a practice of sinning, for God's[b] seed abides in him; and he cannot keep on sinning, because he has been born of God. 10 By this it is evident who are the children of God, and who are the children of the devil: whoever does not practice righteousness is not of God, nor is the one who does not love his brother.
---
Other Resources