Micah 7:18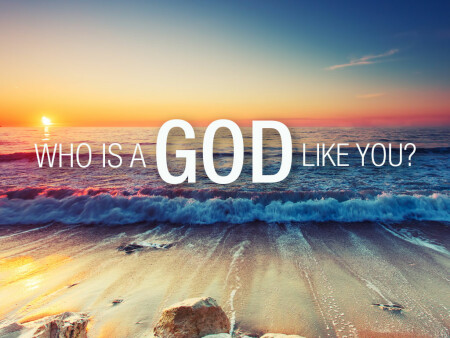 Who is a God like You, who forgives wickedness




And passes over the rebellious acts of the remnant of His possession?

He does not retain His anger forever,

Because He [constantly] delights in mercy and lovingkindness. (AMP)
¿Qué Dios como tú, que perdona la maldad, y olvida el pecado del remanente de su heredad? No retuvo para siempre su enojo, porque se deleita en misericordia. (RVR1960)
     Have you ever stood by the edge of the sea and felt the power of under tow. Or maybe you have never ventured to an ocean but have stood at the base of a mountain (or better on top) and taken in all of it's majesty. Some have never left the great plains but have seen them rolling on what seems like forever. All of these are just a portion of the many ways we know there is no God like the God of the Bible the creator (Genesis 1) of all things. 
In our text this morning Chapter 7 begins with the prophet Micah crying out "Woe is me" because the nation of Israel has once again gone astray and failed to follow God's commands. He goes on in v.7 to say Therefore I will look to the Lord; I will wait for the God of my salvation; My God will hear me. 
We know that salvation comes from God alone, by Faith alone through Christ alone Micah did also. He will look to the Lord, and he will wait for the God of my salvation. But he did not sit idly by (waiting) he confessed  v.8-13 of the sins of Israel. 
In v.14-17  Micah calls upon the promised comfort of God for those who turn (repent) from their evil ways. Then we get to our main text v.18: 
Who is a God like You, What other (false) god could compare to a God like you who has come through for this nation of sinners so many times, never wavering on your promises
who forgives wickedness; Time after time you are ready to forgive our transgressions, when others are so ready to condemn us
And passes over the rebellious acts of the remnant of His possession? This is not to imply God did not or does not require payment or actions for our sins. Christ paid the Sin penalty for God's elect, we must act accordingly and ask forgiveness whenever we sin (1 John 1:9)
He does not retain His anger forever, God hates sin (and the sinner) but a loving God does not retain that hate against those who repent.  
Because He [constantly] delights in mercy and lovingkindness. Micah tells us why God does not hold a grudge or retain anger, it is because His nature is one of mercy and lovingkindness. The Psalmist put it this way Psalm 147:11 The Lord favors those who fear and worship Him [with awe-inspired reverence and obedience], Those who wait for His mercy and lovingkindness.
There is no other God like that of the Bible; one so ready to forgive those who are so ready to offend.