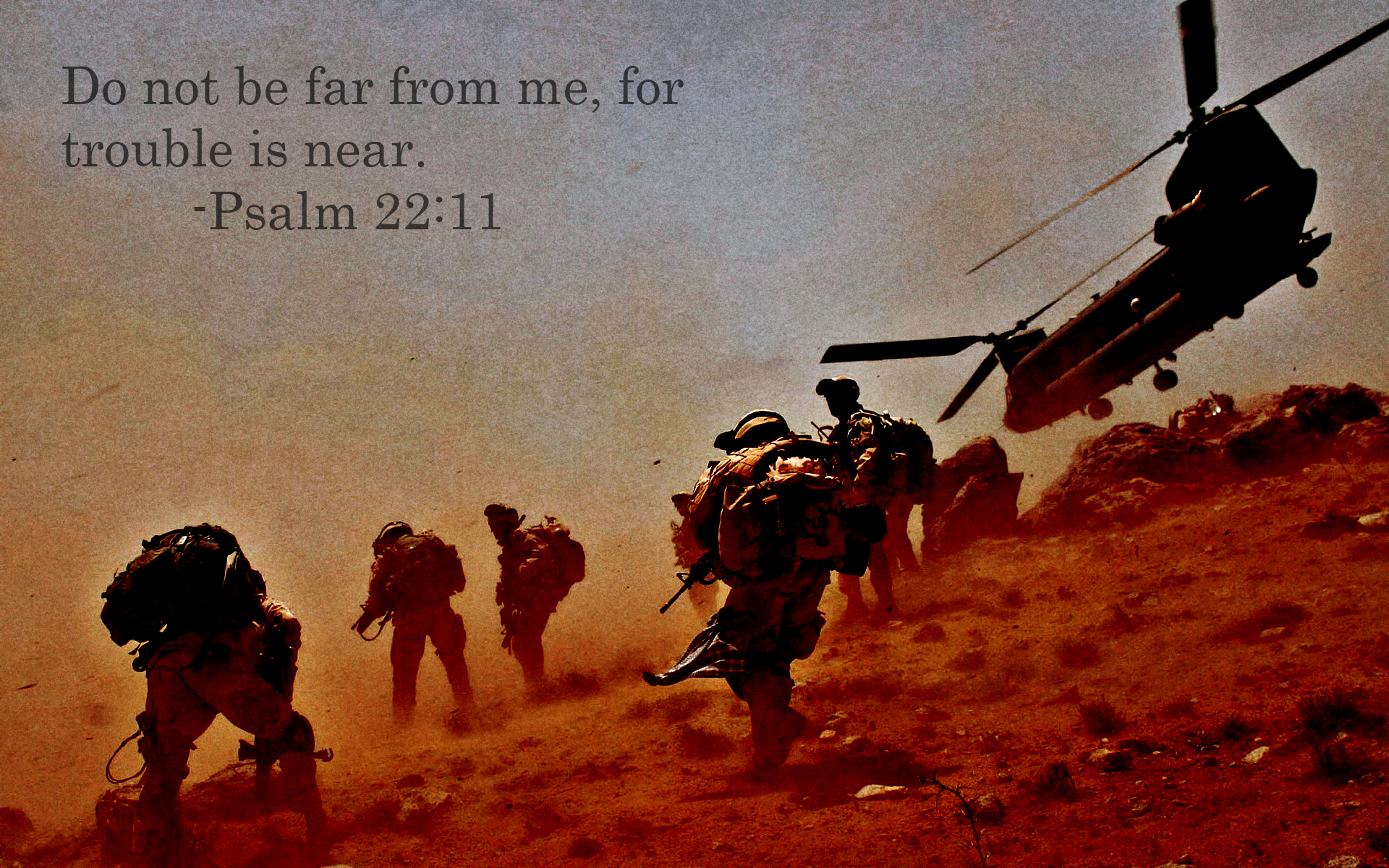 Don't be far from me, because distress is near

and there's no one to help.

(CSB)
No estés lejos de mí, porque la angustia está cerca,

pues no hay quien ayude. 

(LBLA) 
There is an old adage in the military that goes "there are no atheists in foxholes." While the exact origins can not be determined the context is pretty clear, in times of extreme duress, fear or stress men (mankind) will turn to (hope in) God to get them out of their present situation. The problem is most don't give a hoot about God the moment the crisis is over. 
Our Bible verse for today is different. David begins this Psalm asking v.1  My God, my God, why have you abandoned me? Why are you so far from my deliverance and from my words of groaning? Sound familiar, it should this was repeated by our Lord and Savior on the Cross.  David feels alone and abandoned, he has been calling out to God v.2 but appears to ignore his pleas. 
In v.3-8 David recalls, his lowly position in life how he has endured scorn and ridicule, again the parallels to Christ can not be missed. Then in v.9-10 he shifts gears a little and acknowledges God's divine hand in his life from birth forward. Once again the comparisons to Christ are undeniable. 
Finally in our main text v.11 David cries out:
Don't be far from me; His fear is that God has abandoned him, his prayer is that He would be near. This should be the daily prayer of every believer, to have God by our side through thick and thin. 
because distress is near; Why do we need God near, because distress or trouble is always nearby. 1 Peter 5:8 Be sober-minded, be alert. Your adversary the devil is prowling around like a roaring lion, looking for anyone he can devour. Listen the devil is not about to come up introduce himself and say I am hear to make you do sinful (evil) things. Trouble come in many forms and many are so sneaky and underhanded your are not even aware your doing something wrong until it is too late.  
and there's no one to help; Who are you going to call on, that neighbor or family member or battle buddy that is living in the world? Yes I know as Christians we have a Church family we can count on BUT nothing compares to the helper we have in Christ  John 14:16 (AMP) And I will ask the Father, and He will give you another Helper (Comforter, Advocate, Intercessor—Counselor, Strengthener, Standby), to be with you forever— 
I encourage you as did the Psalmist (105:4) to daily; Seek the LORD and his strength; seek his face always.
---
RESOURCES: