Spurgeon's Last Sermon from the Tabernacle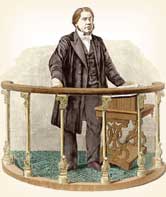 Charles Haddon Spurgeon, "Prince of Preachers," preached his last sermon at the Tabernacle in London on this day, June 7, 1891.
Years before, his ministry had almost come to an early end. His congregation had grown so large they had to erect this special building to accommodate the crowds who came to hear him. While it was being built, he rented a hall in Surrey Gardens. At 22 years old, he had already been preaching five years. An overflow crowd filled the Surrey Garden hall. As he prayed aloud, pranksters yelled, "Fire," and shouted that the balcony was about to collapse. In a panic, people surged toward the exits. Seven people were trampled to death and dozens more taken to hospital badly injured.
Spurgeon collapsed in horror. He had to be carried from the pulpit and fell into such deep depression that he later said he doubted anyone had ever passed as close to madness as he and yet escaped with sanity.
The Tabernacle opened in March 1861. There Spurgeon preached to 6,000 every Sunday for thirty years. That was no mean feat in the days before microphones and was possible only because the Lord endowed him with a commanding voice. From the pulpit, Spurgeon expounded the truths of scripture in a clear and distinct, if showy, style. Each week one of his sermons was published. He quoted frequently from the world's great literature. More importantly, he preached Christ Jesus. In one of the first sermons he preached in the Tabernacle, he declared, "If I am asked what is my creed, I must reply, It is Jesus Christ."
His showmanship was criticized as irreverent. Spurgeon pointed out that through it souls were won. The Lord had called him to preach to the lower classes, and he must present the gospel in a manner they could understand.
For his final talk, Spurgeon described what it is to have Christ as our captain. He amplified on the story of David at Ziklag. David and his men had returned to find their city burnt and their wives and children taken captive. His men wanted to stone him. But David strengthened himself in the Lord, and under his leadership, the men recaptured their wives and children. At that time, David stood up for some exhausted men who had stayed behind guarding the baggage. Christ, said Spurgeon, is like David. He stands up for the weak.
"We are all one in Christ Jesus. Surely this ought to comfort those of you who, by reason of feebleness, are made to feel as if you were inferior members of the body … " Spurgeon showed that David attributed recovery of their families to the Lord and drew this conclusion: "If it is all of free grace, then, my poor struggling brother, who can hardly feel assured that you are saved, yet if you are a believer, you may claim every blessing of the Lord's gracious covenant." Christ, the Son of David, is "the most magnanimous of captains."