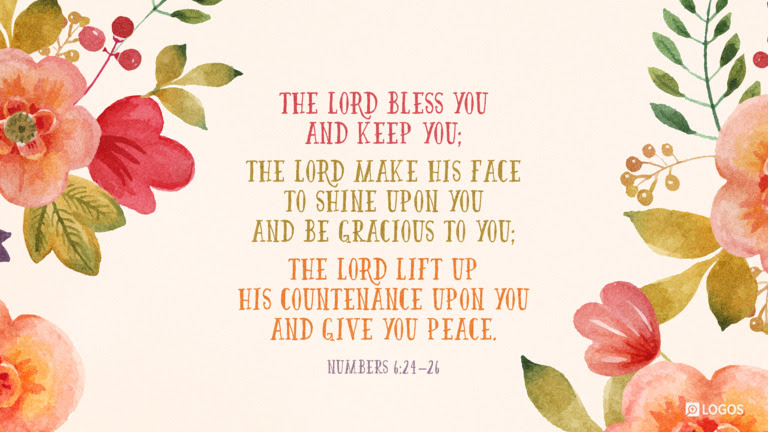 CONTEXT: In one of my theology classes we studied Biblical decision Making. Part three of the process has in itself three parts, Prohibition was does the Bible say we can not do, Principles things the Bible clearly guides us to do and lastly Patterns (or examples) of people we can follow to guide us to a decision that Glorifies God. In this instance God has instructed Moses to tell Arron that this is the pattern or way he shall prayer over and bless the nation of Israel. It is a principle, that most "Christian" pastors follow today in their benediction to the congregation.  
Why chose to follow this principle it is not commanded as a church ordinance?  The Heidelberg Catechism tells us that our only comfort in life and in death is that we "belong to (our) faithful Savior Jesus Christ."   So let us look at another common benediction used  by many, Paul in writing to the church at Thessalonica the second time; closes chapter two with:
 Now may our Lord Jesus Christ Himself and God our Father, who has loved us and given us everlasting comfort and encouragement and the good [well-founded] hope [of salvation] by His grace, 17 comfort and encourage and strengthen your hearts [keeping them steadfast and on course] in every good work and word.
I hope you can see it, You have just delivered or heard the word of God preached and then Okay its over LEAVE! Seems rather abrupt and uncaring. But when we take Paul's words or any of the multitude available, and use them to ask God's Blessing upon the congregation we bring closure to the service. 
Before I close I wish to make one final point Benedictions do not have to be for Church Only.   Maybe you are visiting a hospital, veterans,  or even our elected representatives, be a Boaz ,Ruth 2:4, and leave them "the Lord be with you."  Maybe you have a friend  or co-worker feeling down in the dumps, nothing wrong with leaving them with a blessing/benediction Psalm 115:15,  May you be blessed of the Lord, Who made heaven and earth.  Lastly if you are a parent or grandparent  consider closing your daily prayer time with something like this regarding your grandkids: 
'May the Lord preserve thee from all evil:  may he  preserve thy soul.  May the Lord preserve thy going out and thy coming in from this time forth, and even for evermore;  Amen. '  Psalms 121:7-8
It is also my prayer for you today. 
---
RESOURCES: