There have been many, many, many attempts at creating peaceful accords between nations, cultures etc. since the fall of man. All have ultimately failed!  
Man on his own, apart from Christ, never truly is capable of peace. We have all heard folks make the grand statement 'I just pray for world peace.' Really does the bible even instruct us to do that? Actually no, the bible instructs believers to Pray for peace in Jerusalem, Psalm 122:6-9, and no where else are we told to specifically pray for peace. 
Let us look at some BIBLICAL things regarding peace and the Christian Life:
Romans 12:18

we are called to live peaceably as much as is possible

Matthew 5:9

peacemakers are blessed people

Hebrews 12:14

We are to strive for peace with everyone so that they may see Christ in us 

Romans 8:6 

Worldly or things of the flesh do not lead to peace only things of the Spirit of Christ

John 14:27 

The same peace that Christ had on earth through His life, death, burial and resurrection is available to all true believers

Philippians 4:7 

God's peace is so marvelous, it is beyond our understanding  

One of my Favorite Scripture Verses: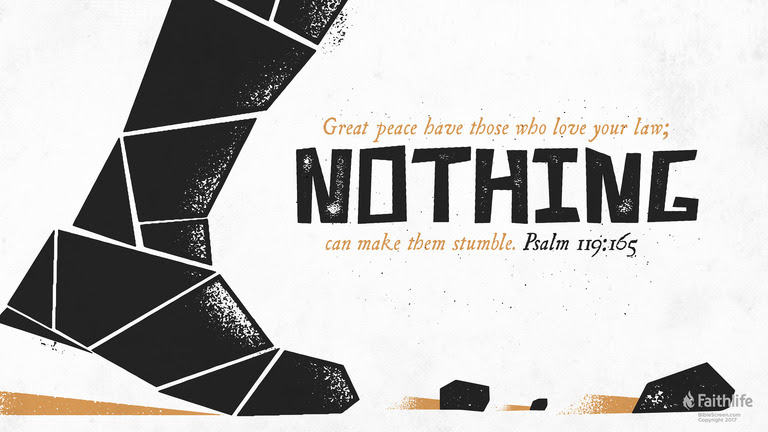 Mucha paz tienen los que aman tu ley,
Y no hay para ellos tropiezo. (RVR 1960)
I can't speak for you but I like the idea of GREAT PEACE in my life. What do I have to do to achieve this? Love God's Law, 1 John 5:3 makes it clear the love of God is established in obedience to His laws. The 10 Commandments along with the Greatest Commandments are what I am speaking of here. These should not be a problem for a true believer, as it should be our desire to glorify, honor and please God in all we do. 
---
C.H. Spurgeon Exposition Psalm 119:165
Great peace have they which love thy law. What a charming verse is this! It dwells not with those who perfectly keep the law, for where should such men be found? but with those who love it, whose hearts and hands are made to square with its precepts and demands. These men are ever striving, with all their hearts, to walk in obedience to the law, and though they are often persecuted they have peace, yea, great peace; for they have learned the secret of the reconciling blood, they have felt the power of the comforting Spirit, and they stand before the Father as men accepted. The Lord has given them to feel his peace, which passed all understanding. They have many troubles, and are likely to be persecuted by the proud, but their usual condition is that of deep calm — a peace too great for this little world to break.
And nothing shall offend them, or, "shall really injure them." "All things work together for good to them that love God, to them who are the called according to his purpose." It must needs be that offences come, but these lovers of the law are peacemakers, and so they neither give nor take offence. That peace which is founded upon conformity to God's will is a living and lasting one, worth writing of with enthusiasm, as the Psalmist here does.
John Bunyan
Nothing shall offend them. They that have this character of God's children, will not the stumbled at God's dispensations, let them he never so cross to their desires, because they have a God to fly unto in all their troubles, and a sure covenant to rest upon. Therefore the reproaches cast upon them, and on the way of God, do not scandalize them; for they have found God in that very way which others speak evil of; they are not so offended by anything that attends the way of God, as to dislike or forsake that way. Nevertheless we must take heed that we be not offended.
Robert Murray M Cheyne, 1813-1843.
"Learn the true wisdom of those of you who are new creatures, and who love God's holy law. All of you who are really brought to Christ are changed into his image, so that you love God's holy law. "I delight in the law of God after the inward man." "The statutes of the Lord are right, rejoicing the heart": Psalm 19. The world says: What a slave you are! you cannot have a little amusement on the Sabbath — you cannot take a Sabbath walk, or join a Sabbath tea party; you cannot go to a dance or a theatre; you cannot enjoy the pleasures of sensual indulgence — you are a slave. I answer: Christ had none of these pleasures. He did not want them: nor do we. He knew what was truly wise, and good, and happy, and he chose God's holy law. He was the freest of all beings, and yet he knew no sin. Only make me free as Christ is free — this is all I ask. "Great peace have they which love thy law: and nothing shall offend them."