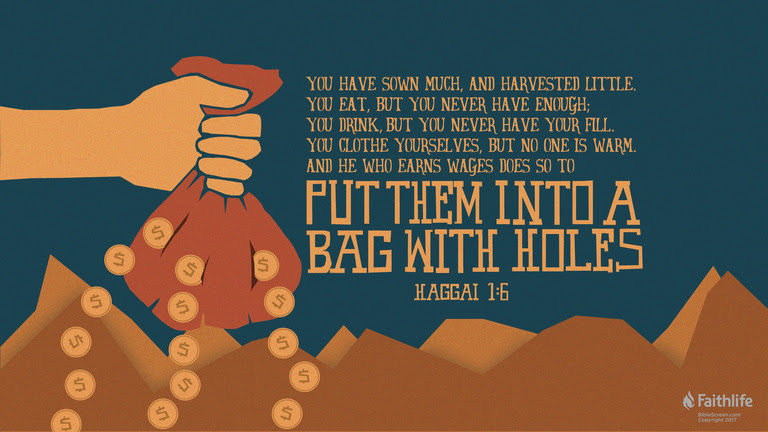 This may seem like a strange verse to begin a look at biblical contentment but I think it captures the essence of what it is not. So first let us look at what it should be.
Contentment is usually considered being "in a state of happiness and satisfaction.¹"  Interestingly in a "2017 Harris Poll Survey of American Happiness, shared exclusively with TIME; only 33% of Americans surveyed said they were happy.²"
What makes this number so dismal is the fact that as we have noted in the past depending on who's poll numbers you use (and that depends on what year 2015 or 2017) between 70% and 75% of Americas self identify as Christians³. The conclusion is simple and unavoidable, many of the Harris Poll participants who responded as unhappy, had to also self identify as Christians.
Haggai 1:6 there are many reasons for this unhappiness in America and it begins with the same problem Israel had as a nation. Yes, we have turned our backs on the Lord and He (in my humble opinion) has lifted His hand of divine providence from this nation. We are more and more going to a two tier or class system of folks, the have and have not's. We have rich and plentiful fields to plant yet harvest little, we had factories and jobs galore greed sent them overseas. We eat and drink gluttonous like and are never satisfied. Then there are the Have not's (I am not talking beggars here) who are the working poor of this nation, scraping by paycheck to paycheck hoping to to somehow not get evicted and to have food to feed the kids. 
What is the problem? "In God We Trust" means nothing! Even the so called Christian majority in the country, fail to call upon, depend upon and be content upon the sovereign God of the Universe. 
So what is Biblical Contentment. First we must accept that God is truly in control of all things. Without that you WILL NOT and CAN NOT have contentment in this life. Biblical Contentment is being satisfied with what God has given us materially, spiritually and physically. In other words what we have, do and the path we are on. 
Jesus in His sermon on the mount tells us to be content, Matthew 6:25 (ESV) "Therefore I tell you, do not be anxious about your life, what you will eat or what you will drink, nor about your body, what you will put on. Is not life more than food, and the body more than clothing?" He continues this thought in verses 32-33 when He describes that true contentment is not found in earthly or human things but in those of heaven. 
One of the greatest testimonies in the Bible of contentment is the Apostle Paul's in the Book of Philippians 4:10-13:
 I rejoiced in the Lord greatly that now at length you have revived your concern for me. You were indeed concerned for me, but you had no opportunity. 11 Not that I am speaking of being in need, for I have learned in whatever situation I am to be content. 12 I know how to be brought low, and I know how to abound. In any and every circumstance, I have learned the secret of facing plenty and hunger, abundance and need. 13 I can do all things through him who strengthens me.
Paul at this time is locked in a Roman prison yet He is content knowing God is sovereign, totally in control of the situation and nothing outside His will is going to happen to him. Paul understood what the write of Hebrews put in ink (Hebrews 13:5-6): 
Keep your life free from love of money, and be content with what you have, for he has said, "I will never leave you nor forsake you." 6 So we can confidently say, "The Lord is my helper; I will not fear; what can man do to me?"
I could go on but suffice it to say if you self identify as a "Christian" there is NO EXCUSE for you not to also self-identify as Biblically Content.
¹ = Contentment 
²= Harris Poll 
³ = Gallup Poll